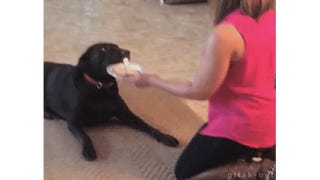 The Saturday Morning Stream will be back next week. Due to visiting relatives and Easter holidays, our regularly scheduled live stream of Barbie's Dreamhouse Party has been pushed to next week. In its place, we present that dog GIF everyone seems to like. Look at that crazy lil' guy.
Yesterday, we talked about our favorite games of 2013. Now comes the hour of our discontent. It's time to vent, to get mad, to talk about sadness and disappointment. Hooray?
Deadpool is my second-favorite Marvel Comics character. Seeing him come to life (courtesy of IGN) at the hands of the studio that brought me two stellar Transformers games should be a dream come true, but the more I see of the Deadpool game the more I realize the character I fell in love with back in 1997 has…
As I exited the theater early Friday morning after a midnight showing of the third and final film in Christopher Nolan's acclaimed Batman trilogy, the air was filled with excited chatter. "I didn't see that coming!" "I knew it all along!" "I want to see it again!" The crowd seemed quite pleased. I wasn't feeling it.
Some folks loved the latest Legend of Zelda game but weren't fond of The Elder Scrolls V: Skyrim. Others turned up their noses at Skyward Sword but embraced Bethesda's latest wholeheartedly. Somehow commenter Sloopydrew found himself disappointed with both games. In today's Speak Up on Kotaku we try to determine what…
You've heard the buzz, read the reviews, and consulted the stars; all signs point to The Elder Scrolls V: Skyrim being the second coming of Oblivion, only bigger, better, and bolder than its beloved predecessor. And for the most part it is, but there are some definite flaws on this shiny dragon-clutched diamond.

If you asked Meterora3255 if he liked Uncharted 2 he'll tell you he never played it, but that's a lie. You see, Meteora3255 has a dirty secret. He didn't like Uncharted 2. He tried to hide his true feelings at first, but as we all know, the gaming community can be cruel and shamed him into silence, until now. So what…
Sometiumes people say things in internet forums we don't agree with. In today's Speak Up on Kotaku, commenter JesusChrist tells us how to deal with these unpleasant situations.
In today's Speak Up on Kotaku, commenter Dracosummoner talks about a game that sold him with its demo and then let him down in full release. Has that ever happened to you?
What McWhertor posted last night as a rumor is definitely not a rumor. I found out last night after getting my Fable II Depressing Limited Edition from GameStop that yes, the card was missing from the game. It was pathetic enough to go from that majestic-looking LE package to a game in a paper sleeve, and now this?…
Remember back during E3 a couple months back when I got a chance to go lungs-on with Rock Band 2, telling you about all of the nifty new features coming, including the ability to just let songs play in a randomized Jukebox Mode in the background while you do other things? Yeah, not happening.