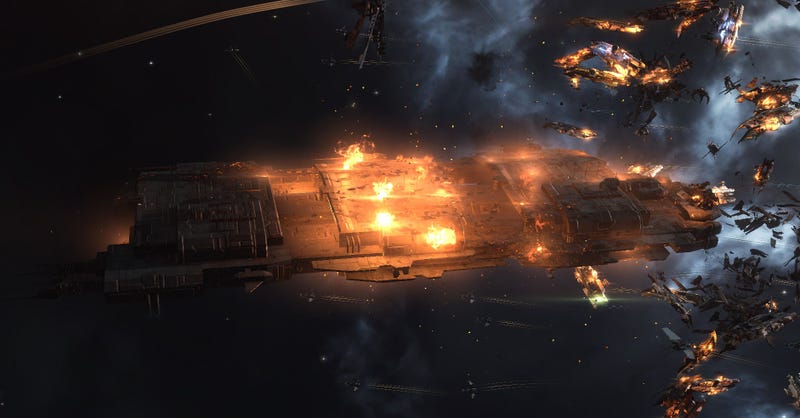 EVE Online is a game of risk versus reward, a game where players can take chances with their resources. Over the past weekend, the in-game organization know as "The Imperium" staged an annual event called "Burn Jita." During this event, the safest areas of the game are invaded by renegade players, who turn everything…
EVE Online can get pretty intense. From battles that cost $300,000 in damages to histories so complex that a book was written about them, the long running MMO can get very serious. Now, a personal disagreement has led to a hefty bounty.

CCP has announced it's shutting down Dust 514, its FPS set in the EVE Online universe, on May 30. The company is currently developing a follow-up, but unlike Dust 514, it'll be PC-only.
Grief, in an online community, can be a shockingly intimate thing. People who have known each other as a collection of digital avatars and assumed names gather together to mourn the genuinely painful loss of one of their own. The best and most generous parts of a community's nature often show when tragedy strikes it.
What do Lady Gaga and CCP Games, maker of massively multiplayer online role-playing game EVE Online, have in common? They've both worked with fashion director Nicola Formichetti and his muse, the model with a full body corpse tattoo, Rick Genest.
Chessboxing is an activity that combines the physical demands of boxing with the mental discipline of chess. Competitors alternate between rounds of chess and rounds of boxing, kicking things off with a four-minute round of chess and alternating with fisticuffs until 11 rounds have passed, or one competitor jams a…
Hilmar Pétursson drew a familiar analogy - EVE Online players are the air force; DUST 514 players are the (wait for it) marines. Space marines! Pétursson went on to say that while EVE inhabitants are "different people," focused on operating spacecraft. a character in DUST "would rather run around, blow shit up. That…