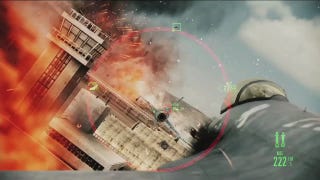 After we ran our "Yes" Gut Check for Ace Combat: Assault Horizon, I noticed a lot of skepticism about the game. Is it really any good? It seems weird, and cold, and soulless.
After being sorely disappointed by the helicopter combat of Apache Air Assault last year, it's nice to see there's still some hope for the well-armed whirlybird enthusiast in Ace Combat: Assault Horizon.
It's Ace Combat Assault Horizon Friday, boys and girls, and you know what that means: Project Aces is parading four sexy fighter craft players will be slipping inside when the game drops October 11.
With a story penned by New York Times bestselling author Jim DeFelice, overhauled dog fighting and the ability to hop into the controls of a gunship, Ace Combat Assault Horizon is working hard to change the way you think about the series.
Namco's venerable Ace Combat series is also getting a once-over—just like Ridge Racer—with Ace Combat: Assault Horizon, which adds a little "Close Range Assault," bringing the camera closer for more intense dogfightin' action.
After yesterday's trailer piqued our curiosity, Namco Bandai delivers more details on Assault Horizon, a game being called a "complete rebirth" for the Ace Combat franchise, or "steel carnage in the sky."
Namco Bandai takes to the skies on the PlayStation 3 and Xbox 360 next year with Ace Combat Assault Horizon, a rebirth for the franchise featuring helicopters, turret-gunning, and quick-time events.