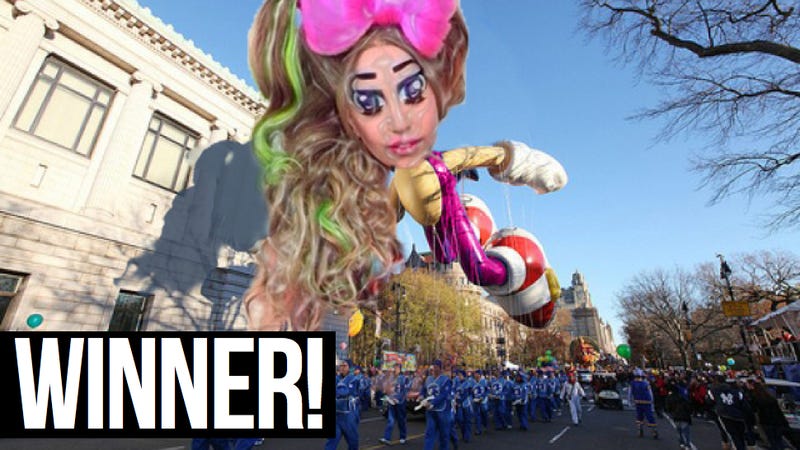 Here's an aerial disaster only slightly less hideous than the Hindenburg. It's Lady Gaga's kawaii-face, which all-star 'shopper sciteach stuck on a Sonic the Hedgehog balloon from last Thursday's Macy's Thanksgiving Day Parade. He leads the march of a baker's dozen finalists inside!
For the record, I was partial to Brand Sliven's Trevor-balloon, but the reaction in favor of sciteach was overwhelming—and it is a damn good 'shop, full of detail. Big thanks to double-finalist uscg_pa for keeping the bagsuit meme going, now two full years after my review first ran. And if you're having trouble getting the joke in mac46's entry, look at the billboard in the background.
Thanks again to all who participated! We'll have another contest ready to go tomorrow.
---
arniejolt
---
Brand Sliven
---
dummysystem
---
Exato
---
GiantBoyDetective
---
GiantBoyDetective
---
HarvesterZERO
---
Hundredgunner
---
mac46
---
Saibo
---
sciteach
---
spraynardkruger
---
uscg_pa
---
uscg_pa2
---
ZappaBappa
To contact the author of this post, write to owen@kotaku.com or find him on Twitter @owengood.