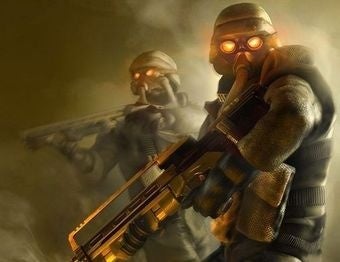 In a week that saw our new previews format, we gave you the goods on Resident Evil 5 (preview) and Killzone 2 (impressions) plus nearly half-a-dozen more titles.
The previews weren't limited to just games. Jeff Kass gave everyone a look at the video-game parts of his comprehensive Columbine retrospective set for publication right around the 10th anniversary of the shootings. We appreciate the heads up, because April's going to throw violence and popular culture - and, yes, video games - back into the talk-show churn again.
Your week in original reporting:
More umlauts
Nintendo Sends Thank Yous To My Nintendo Überfans
Features:
K1
Electronic Arts Won't Run From Risk
No, World Of Warcraft Has Not Been Banned In Australia
Impressions, Previews and Reviews
About Kotaku Previews
Killzone 2 Impressions
Resident Evil 5 Preview: A Building Sense of Dread
Battlefield 1943: Pacific Preview: A Much Needed Upgrade
X-Men Origins: Wolverine Preview: A Bloody Good Time
New Wolfenstein Features Otherworld
Prototype Preview: Slick, But Not A Stand Out
First Look At Uncharted 2: Among Thieves In Action
Puzzle Quest: The Battle Of Grulkar Micro-Review: A Piece Of The Puzzle
Dawn of War II Co-op Campaign: An Identity Crisis?
News
Developer Reaches Back-Pay Deal With Government
Just How Big Is The Hori Real Arcade Pro Stick?
Super Robot Taisen OG Saga: Endless Frontier Expands To North America
Bidness
U.S. Army Now In on Zombie Invasion of Best Buy
Nintendo Won't Comment On DSi Pricing Differences For Outside Japan
2008 Australian Console Sales Figures
Dragon Quest IX Brings Internet Shopping
Metal Gear And Pro Evolution Soccer Power Konami's Sales
Netflix LIVE App. Downloaded And Activated By A Million LIVE Users
Capcom Posts Sluggish Console Game Sales
Koei Posts Record Sales
So What's EA's Market Share Like These Days?
Zombies Invading Best Buy For Resident Evil 5 Launch
Amazon Casually Launches Digital Game Downloads
New Games
Mass Effect 2 Coming In 2010, Will Be "Multiplatform"
Dead Space Wii Announced
Mixed Martial Arts Title, New Shooter In Works At EA?
Vilent Vidja Games
New Columbine Book Touches on Gaming Connections
Pics
Hands Down, The Best Dead Rising Wii Screenshot
You Seem To Have Got GTAIV In My Google Earth
Boobie
Activision and Booth Babes Return to an E3 Ten Times Bigger Than Last Year's