Not the good kind either, the roid-infused home run record kind. I mean the old-school "broken record" which repeats the same phrase until you lift the needle. In this case: Workers fired, business sucks.
Here's the roundup of Kotaku's original reporting the last week:
Umlauts:
Köööööln!!!
Third Prize is You're Fired:
Rumor: Need For Speed PSP, EA Canada Staffers Axed
Disney Confirms Cuts, Consolidations
Update: Layoffs Hit Disney Interactive, Turok Sequel Canceled
Nexon Shutters Vancouver Development Studio
G/O Media may get a commission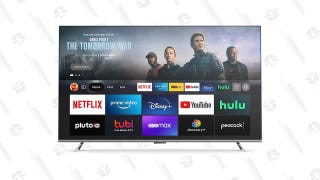 Save 46%
Fire TV 55" Omni Series 4K UHD Smart TV
Fourth Prize is You Work For Free:
Sensory Sweep Responds to Labor Claim
But Ninty's Still Rich:
Let's Break Down Nintendo's Biggest Selling Wii Games (Let's!)
Let's Break Down Nintendo's Biggest Selling DS Games (Let's!)
Total Wii And DS Software Sales Are Up
Wii/DS Sales Down In Japan, DS Approaching 100 Million In Lifetime Sales
Nintendo Sales Up, Profits Down, Financial Forecast Revised
Nintendo Introduces Wii Fit Body Check Channel
Wii Power Pad Game Sells A Million
News:
Mythic's Four-Month Plan to Drip Feed You New Ways to Play
The Guns, Beauty and Cities Of Final Fantasy XIII
Final Fantasy Countdown Reveals...
You Can't Hold Australia In Risk: Halo Wars
Three New Levels Coming to The Maw Via DLC
Tecmo Koei Merger Creates Koei Tecmo Holdings
Presenting The Lost & Damned "Box Art", Halo Wars Gold Membership Card
No Love Among the Ruins of Circuit City
Reviews/Impressions/Hands-On
The Conduit Channels Hardcore Gaming To the Wii: Hands-On
MadWorld Paints the Wii Red: Hands-On Impressions
Star Ocean: Second Evolution Review: Calm Seas Ahead
Street Fighter IV Tournament Edition Fight Stick Review: Shoryuken
Frankenreview: Afro Samurai
Ruh Roh
More Details On Sony Sales Slump: PS2, PSP, PS3 Sales All Down
Dragonball Origins Recalled In Australia
Street Fighter:
Hands Inside The SFIV Tournament Edition FightStick
Is SFIIHD Really Delayed In Europe Thanks To "Faults & Problems"?
Bayonetta:
Bayonetta, MadWorld, The Conduit Lookin' Fine
Bayonetta Brings Devil May Cry Aesthetic To a New Level
Let Me Rephrase That:
Utah Prof Says Study Doesn't Prove Gaming Is Bad For You
Navel Gazing:
Movie Critics Second Guessing Star Ratings Too
Screenshot Porn:
Ryu Ga Gotoku 3 Screens Will Elbow Your Face In
Screens Of Pandemic's Cancelled Batman Game
Handhelds:
Blagojevich Corruption Strategy Game Coming to iPhone
PSP Gets "Carnival Colors"
Are People Still Buying The Game Boy Advance?
Swag:
LittleDeskCalendar
Gossip:
Rumor Gamecock Founder Looking to Jump From Developer to Mag Publisher
Mmm-hm:
Microsoft: Windows Still a "First-Class Gaming Platform"