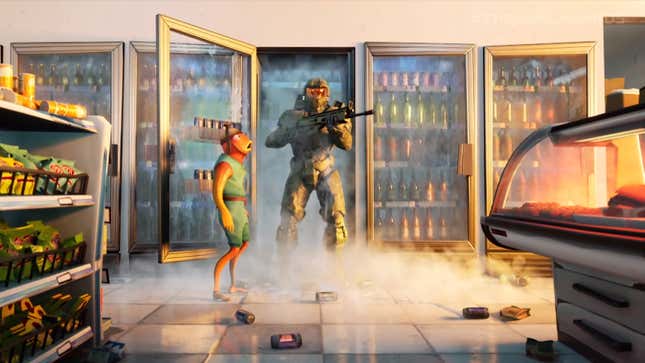 Epic Games confirmed during tonight's Game Awards that Halo's Master Chief and a new Halo map mode are coming to the game.
The 3 Best And 3 Worst Korok Challenges In Tears Of The Kingdom
The new Master Chief skin is available starting tonight, while the Blood Gulch Red vs. Blue capture the flag map will be available starting tomorrow at 10:00 a.m. ET as part of Season Five's ongoing Bounty-themed content updates. The Spartan's full set will cost 2600 V-Bucks, and when used on Xbox Series X/S will unlock a special matte black variant of Chief's armor.
Master Chief's addition to Fortnite leaked last week, with pictures of the skin and other Halo-themed cosmetics like a Warthog dune buggy and Pelican gunship glider surfacing on Twitter. He joins God of War's Kratos and Star Wars' Mandalorian, but more characters are likely on their way.
This season, which began following a battle with Marvels' Galactus at the end of Season Four, is all about the search for new warriors from alternate dimensions thanks to the world shattering prosperities of the Zero Point phenomenon.
This has led a lot of players to speculate about what potential cross-overs Epic Games might have in store. The fact that one of Microsoft's biggest mascots is now appearing alongside one of Sony's continues to beg the question of whether Nintendo will eventually join in the event in some way.