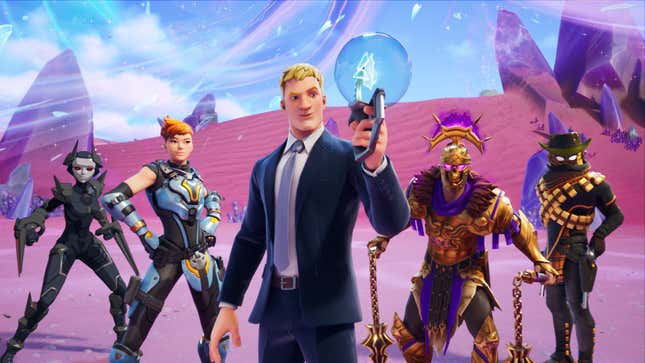 After a battle with Galactus that briefly shut down both Fortnite and Twitch, we have some information about what's coming in Chapter 2, Season 5. There are some big map changes, along with some new systems and characters who do more than just try to kill you.

The Week In Games: System Shock, Street Fighter 6, And More
(Update, 6:58am—This story first appeared at 12:40am. It's been updated with more information about the new season now that it's live.)
The Zero Point is now a major focus of the island's landscape, according to the in-game cinematics that went live on YouTube at midnight. The Zero Point's world-shattering properties have brought new biomes like a desert, an ancient colosseum, and a jungle. It's sucked in some new characters as well: as Epic describes, Season 5 revolves around helping Jonesy fight characters from other "Realities" who are trying to escape "The Loop," a bit of sci-fi lore that's weaved in and out of several of Fortnite's big events. As with Season 4's Marvel theme, this opens the door to crossovers; in Season 5, The Mandalorian makes an appearance, along with some new Fortnite characters called "hunters." These characters are part of the battle pass, but Epic writes that you can also"take on their quests and bounties, get intel on your surroundings, or hire them to be your ally. Don't want to negotiate? Challenge them to a duel and reap the rewards."
In practice, this means that in addition to the characters appearing in the battle pass, you can also find holographic versions of them around the world. They'll give you tasks to complete, and you can also buy weapons off of them. The one I found—a sentient stack of pancakes who is also Overwatch's McCree??—offered an Exotic new weapon called the Night Hawk. I was also able to hire them to fight alongside me as well.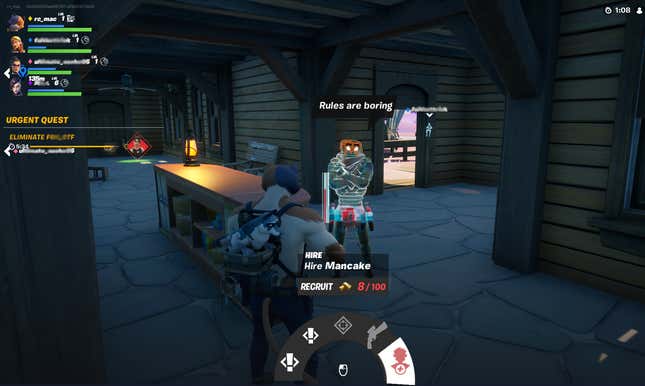 Also featuring this season are bounties and quests, which will earn you a currency called bars. In my matches, bars dropped from players I killed, though Epic writes that you can also find them around the world and earn them from completing bounties and quests. My bars went into my inventory where materials go. (Correction, 12/8, 11:43am—This article previous stated that bars only last for the duration of a match. As detailed by Epic, bars "will carry on with you match to match.") Bars can be spent on "new Exotic weapons, upgrades, intel, services and more." Some limited-time modes, like the John Wick mode, have featured bounties, and the battle royale has even had some quests in the form of XP-granting side activities, but it looks like they'll feature more prominently this season. I received quests from my menus, where challenges usually appear; they included getting eliminations with certain weapons, visiting locations, and killing other players. Some battle pass skins also have quests associated with them, which we've seen with certain characters in previous seasons.
I took a bounty from the aforementioned pancakes to kill another player. This was a nearby enemy, whose location appeared on my minimap as a gold area. I had five minutes to find the enemy and kill them. I managed to find them, and while they wound up, very maddeningly, killing me, it was really fun to search for them.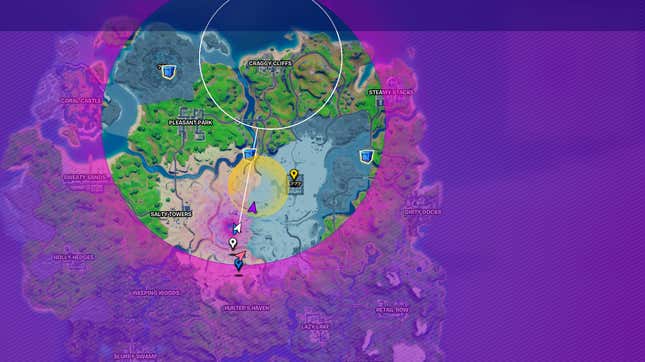 A Fortnite match can be pretty busy, so I'm not sure how these optional activities will hold up as the season goes on. I can see them feeling like more of a distraction in the churn of staying in the circle and eliminating the competition, but they might fit better into the flow as I learn the new map and get a sense for how many quest-givers there are and where they're located.
There are new weapons too, with new features. As Epic writes, "Unleash your fiery rage with the Dragon's Breath Shotgun, switch between melee and ranged with the Mandalorian's Amban Sniper Rifle, track your target with the Night Hawk, and more." As usual, Epic promises new characters and weapons throughout the season.
It's nice that we didn't have to wait until 4am to get our first info about the season, and it was fun to watch the videos go live on YouTube with a bunch of excited players. I'm excited to learn more about this season's changes, and glad to see Fortnite feeling more like itself again, with its own weird characters and new areas to explore. We'll see what else players uncover as the season goes on.