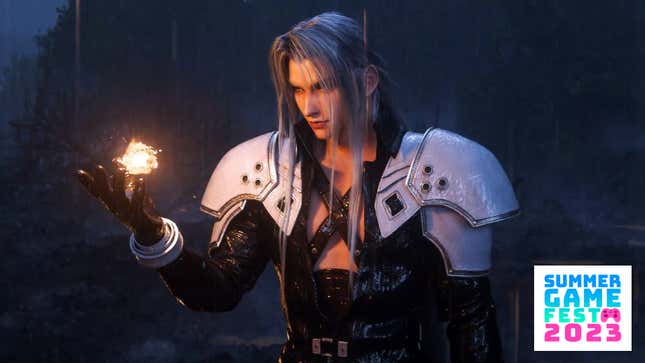 Final Fantasy VII Rebirth, the highly anticipated sequel to Final Fantasy VII Remake, rounded out Geoff Keighley's Summer Game Fest broadcast. At the end of the sizzlingly cinematic trailer was confirmation of the game's early 2024 release window. Right under those words was a nostalgia trip no one expected in the year of our lord 2023: FFVII Rebirth will launch on two PS5 discs.

Yeah, you read that right. The next installment in pretty boy Cloud Strife and friends' adventure will ship on two separate discs. Kinda wild. It's not exactly new, though, as prior PS4 games, such as Red Dead Redemption 2 and even FFVII Remake, have included two discs: usually the first one for installation, while the other's the actual game. It's just giving 1995 when the OG FFVII release came on three discs (in 1997, mind you), and it's not exactly something you'd expect from an increasingly digital-only world. But it is nostalgic, isn't it?
What You Should Know About Mario Strikers' Big Free Update
Read More: Final Fantasy VII Rebirth Teases Wild Twist In New Deep-Dive
When do you think the game will ask you to change discs? After a pivotal moment? A boss battle? Once Sephiroth serenades us to sleep with a gently yet menacing soliloquy? We'll find out next year. For now, we know that in addition to continuing to mess with the story, the game will allow you to venture out into the world that awaits beyond Midgar. Maybe that's why we'll need two discs.
Kotaku reached out to Square Enix for comment.
In the meantime, you can have a laugh looking at how much the phrase "two discs" is breaking everyone's brains on social media, where it's now trending. Alongside the memes and solid goofs are some interesting theories, like this one suggesting how cool it'd be if one disc centered Zack and the other focused on Cloud. That's unlikely, of course, but who knows? The first game in this remake series demonstrated that we can't be at all sure of just where things are headed.
---
Kotaku is covering everything Summer Game Fest, from the main show on Thursday to other events happening throughout the next week. Whether you're into larger-than-life triple-A games or intimate, offbeat indies, you can keep up with all things SGF here.