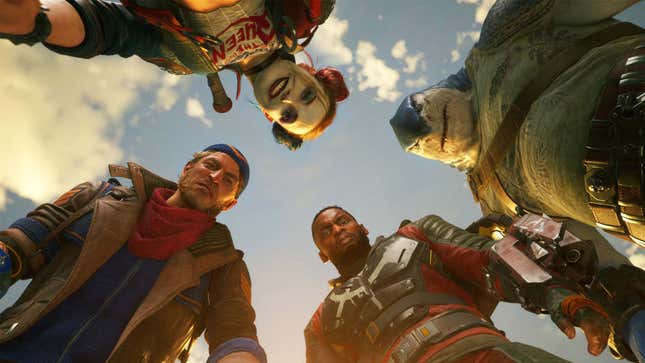 Suicide Squad: Kill the Justice League, the upcoming online co-op action shooter from Rocksteady, has officially been delayed from its planned May release to February 2024. This follows a report of a previous delay in March and the release of new gameplay footage in February that was met with a flood of negative reactions from fans and critics alike.
The Week In Games: New Tales From Gotham And The Borderlands
First revealed way back in August 2020, Rocksteady's Suicide Squad game stars popular DC villains like Harley Quinn and Captain Boomerang and is based on a long-running series of comics about villains being recruited by government agent Amanda Waller to take on wildly dangerous threats and complete ethically dubious missions. It's also connected to the Arkham games, unlike 2022's previous DC co-op flop, Gotham Knights. But if you were still excited to play Rocksteady's next big game, you're going to have to wait nearly a year.
On Thursday, following a March report about a possible delay from Bloomberg, WB Games and Rocksteady officially confirmed that their Suicide Squad game has been delayed until February 2, 2024.
We have made the tough but necessary decision to take the time needed to work on getting the game to be the best quality experience for players. Thank you to our amazing community for the continued support, patience, and understanding. There is so much more to share in the months ahead and we look forward to seeing you in Metropolis next year.
What this might mean for the Suicide Squad game
In March, Bloomberg reporter Jason Schreier explained on Twitter that the then-reportedly short delay was likely not intended to "overhaul the core gameplay" and instead would be just about "polishing" what was already present. However, the delay announced today turned out to be much lengthier than first reported, and it seems that the devs are going to have a lot more time to possibly rip out some of the live-service aspects prospective players reacted cooly toward.

While I'm not sure you can expect WB and Rocksteady to rip out all the live-service crap, multiple currencies, or the game's always-online requirement, I wouldn't be shocked if some of that stuff got cut or streamlined by the time the game finally comes out in 2024. (Assuming no further delays, of course.) Fully expunging all live-service aspects seems unrealistic, and would require a much longer and more expensive delay.

Also, keep in mind, this isn't the first time Rocksteady's DC shooter has slipped. Suicide Squad: Kill the Justice League was originally scheduled to ship last year, but in early 2022 it got delayed until spring 2023. Now the troubled shooter will miss that planned release date, too. And while it's not nearly as much of a saga as Ubisoft's oft-delayed pirate game, it's starting to feel like Suicide Squad might be the next AAA video game cursed to be forever stuck in development hell. Let's hope it gets out soon for the sake of all the folks working on it.

Update 4/13/2023 4:35 p.m. ET: This post was originally published on March 9, 2023. It has been updated and expanded to account for the official announcement of the game's delay into 2024.