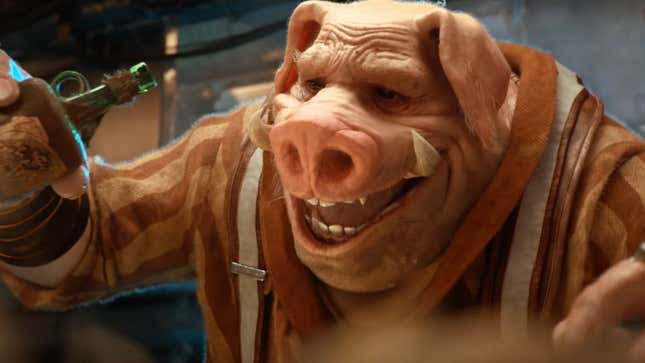 After Ubisoft recently announced they had been swinging the axe Barbarian-style, it was assumed by many that any hope of the infinitely-delayed Beyond Good & Evil 2 could now be put to rest. Seven games were canned in the last six months, along with yet another delay for the beleaguered Skull & Bones, while other big titles have failed to meet expectations. But, insists Ubisoft, for some reason BG&E2 is still being made.

A Foe From The Next Team Ninja Game Is Giving Me Sekiro PTSD
Speaking to Eurogamer, Ubisoft told the site, "Beyond Good and Evil 2's development is under way and the team is hard at work to deliver on its ambitious promise." Which is a very vague statement indeed.
BG&E2 was announced an extraordinary fifteen years ago, and throughout has been thought abandoned, then re-announced, forgotten about again, given an E3 video that looks nothing like anything to do with Beyond Good & Evil, disappeared once more, and so on.
Creator Michel Ancel, who was also responsible for creating Rayman, would occasionally pop up to declare the game in a new phase of development, before ultimately popping off entirely in 2020 to spend more time with his wildlife sanctuary—coincidentally only moments before it was revealed he was being investigated for toxic behavior at his studio.
Many of the problems with the creation of the game were levelled at Ancel's leadership style, according to a report by French outlet, Libération. However, despite his leaving over two years ago, there has been not a glimmer of footage under its new leadership. Despite the announcement that former Blizzard writer Sarah Arellano had joined the project in August last year, there still seemed very little reason to believe it was happening.
But not so, say Ubisoft, whom we've contacted to ask for more details. Although the question we haven't asked is: why? Why bother now? 2003's Beyond Good & Evil was a truly wonderful game, offering a gentle mix of third-person platforming, wildlife photography, and a genuinely lovely story. But that was two decades ago, and everything we've seen of the supposed sequel in the years since has felt severely tonally different—and mysteriously obsessed with monkeys. Epic and expensive-looking CGI trailers have been great to watch, but suggested nothing of the actual game, while 2018's in-game pre-alpha footage looked dated and incomprehensively bland.
It feels to me like that saddest of projects: a game that exists to exist, with no visibly greater motivation to be. As a huge fan of the original game, I once longed for a sequel, but not any more. And especially not given how everything that's been shown of it—from its ridiculous Starfield-like over-ambition to its f-bomb-filled bullshot CGI videos—has felt like it has nothing at all to do with the game I loved.
Still, it seems vanishingly unlikely that we'll ever be troubled by its being released.