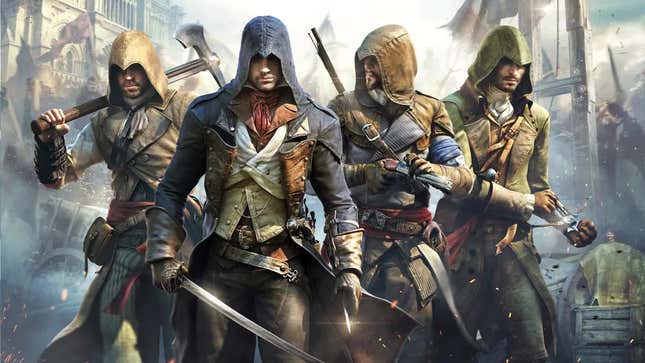 After a long wait, Ubisoft+, the french publisher's Netflix-like gaming subscription, has finally arrived on console by way of the Xbox One and Series X/S. But it comes at a hefty price. Rather than launch a new, cheaper tier, players will have to pay $18 for the existing premium multi-platform subscription.

A Foe From The Next Team Ninja Game Is Giving Me Sekiro PTSD
That means access to Assassin's Creed Valhalla and new Ubisoft games on day one, at least for those willing to pay more than the current $15 monthly price of Game Pass Ultimate. Instead of bundling the two services, as is the case with EA Play, Ubisoft+ will apparently remain separate, raising the question of who exactly it will be for outside of hardcore fans willing to shell out for both.
Ubisoft+ does have some perks that EA Play doesn't. It includes all new releases day-and-date, whereas EA Play offers free 10-hour trials but doesn't circulate new blockbusters into the library until many months after they launch. Ubisoft+ also lets you play the library using cloud gaming via Amazon's Luna service, giving subscribers multiplatform access across console, PC, and mobile.
Read More: Ubisoft Devs Grill Boss On Shifting Blame And Chasing Trends
Still, $18 a month is steep, especially compared to the value you get from Game Pass for less. Microsoft's subscription service even includes some of Ubisoft's biggest games like Watch Dogs 2, Assassin's Creed Odyssey, and Far Cry 5. That's not nearly as robust as Ubisoft+'s catalog, but between For Honor, Rainbow Six Siege, and Ghost Recon Wildlands, there's plenty to keep newcomers and casual fans occupied.
The biggest draw of Ubisoft+ by far is getting access to new games for just $18 a month. With prices getting bumped up to $70 for new releases, that's not nothing, but for it to matter Ubisoft also has to start releasing some new games, something it struggled to do the last couple of years. Multiplayer pirate sim Skull and Bones was due out last fall but keeps getting delayed and doesn't even have a new release date anymore. Avatar: Frontiers of Pandora is in the same boat.
Assassin's Creed Mirage, a smaller stop-gap game between Valhalla and the next open world release, is due out before the end of 2023. Maybe Ubisoft will manage to improve Ubisoft+'s price by then.
Here's the full list of games available for the service on Xbox:
Anno 1800 (Xbox Series X|S only)
Assassin's Creed Rogue Remastered
Assassin's Creed IV: Black Flag (includes Assassin's Creed Liberation)
Assassin's Creed Unity (Gold Edition)
Assassin's Creed Valhalla (Ultimate Edition)
Assassin's Creed Chronicles: China, India, and Russia
Assassin's Creed III Remastered
Assassin's Creed Odyssey (Deluxe Edition)
Assassin's Creed Origins (Gold Edition)
Assassin's Creed Syndicate (Gold Edition)
Assassin's Creed: The Ezio Collection
Battleship
Boggle
Child of Light (Gold Edition)
Family Feud
Far Cry Primal (Deluxe Edition)
Far Cry 3: Blood Dragon (Classic Edition)
Far Cry 3 (Classic Edition)
Far Cry 4 (Gold Edition)
Far Cry 5 (Gold Edition)
Far Cry 6 (Gold Edition)
Far Cry: New Dawn (Deluxe Edition)
Fighter Within
For Honor
Ghost Recon Breakpoint (Ultimate Edition)
Ghost Recon Wildlands (Ultimate Edition)
Grow Up
Hungry Shark World
Immortals Fenyx Rising (Gold Edition)
Jeopardy!
Monopoly Plus
Monopoly Madness
Rabbids Invasion: The Interactive TV Show (Gold Edition)
Rabbids Party of Legends
Rainbow Six Extraction
Rainbow Six Siege (Deluxe Edition)
Rayman Legends
Riders Republic
Risk
Risk: Urban Assault
Scott Pilgrim vs. The World: The Game
Scrabble
Shape Up (Gold Edition)
South Park: The Fractured But Whole (Gold Edition)
South Park: The Stick of Truth
Starlink: Battle for Atlas (Deluxe Edition)
Steep
The Crew (Ultimate Edition)
The Crew 2
The Division (Gold Edition)
The Division 2
Trackmania Turbo
Transference
Trials Fusion
Trials of the Blood Dragon
Trials Rising (Gold Edition)
Trivial Pursuit Live
Trivial Pursuit Live 2
UNO (Ultimate Edition)
Valiant Hearts: The Great War
Watch Dogs (Complete Edition)
Watch Dogs 2 (Gold Edition)
Watch Dogs: Legion (Deluxe Edition)
Wheel of Fortune
Zombi