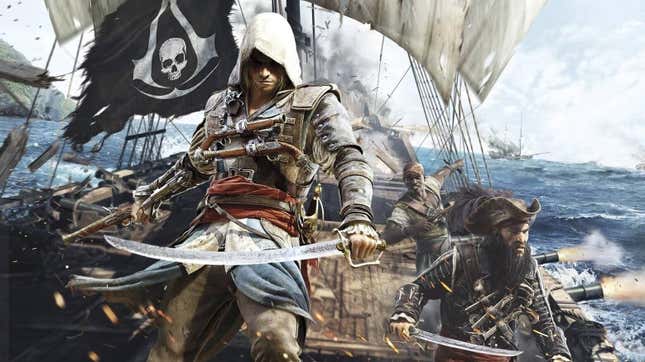 Ubisoft is doubling down on its most popular franchises, including Assassin's Creed. Kotaku has learned that strategy now includes a remake of Assassin's Creed IV Black Flag, the 18th-century pirate fantasy period piece, and one of the more fondly remembered entries in the series. It's what many fans have asked for every time they see a new trailer for Skull and Bones, Ubisoft's other pirate game long trapped in development hell.
This Stylish Noir-Punk Side-Scroller Is Like Celeste With Guns
According to two sources familiar with the plans who asked not to be named because they were not authorized to discuss them, a remake of the 2013 cross-gen PlayStation 3 and Xbox 360 game is still in its earliest stages and will not be complete for at least a few years. A team at Ubisoft Singapore, one of the studios that has led development on the Assassin's Creed franchise's evolving ocean tech, will be heavily involved in helping to modernize the Caribbean-based sailing game.
A spokesperson for Ubisoft declined to comment.
At this stage, it's not yet clear how much of the underlying gameplay and systems will grow to fit the more sprawling open-world RPG mold of recent big-budget Assassin's Creed releases like Odyssey and Valhalla. But given Black Flag's emphasis on ship-to ship combat, one of the most popular aspects of the game, there's a lot of room to turn a new version of the game into something more dramatic than a simple "next-gen" remaster on PlayStation 5 and Xbox Series X/S.
At the same time, Ubisoft still has yet to launch Skull and Bones, its cursed blockbuster live-service pirate game that was first announced back in 2017. As Kotaku previously reported, it originally grew out of a Black Flag expansion, only to then spend years continually changing shape and suffering from internal politics, confusion, and bureaucracy within Ubisoft Singapore and the larger company. It was supposed to launch last fall, only to then get delayed two more times without a new release date.
Skull and Bones was missing from Ubisoft's big summer showcase outside of a live on-stage sea shanty performance, and the team is now in heads-down mode trying to polish the game before a closed beta planned for late August.
According to an internal email shared with Kotaku, Singapore studio management is currently forcing all developers on the game to work from the office rather than remotely. It's also providing onsite breakfast and dinner as a way of "thanking you for your unwavering commitment to our shared vision," though it will also seemingly encourage staff to stay later and work more hours to ship the closed beta on time for a game that was due out years ago.
One of the big ironies of this new situation is that some developers on Skull and Bones had previously discussed, at least privately, the possibility of pivoting the game back toward something more like Black Flag, potentially with a focus on co-op exploration and hand-to-hand combat rather than just resource gathering or player-vs.-player naval battles. It would have taken longer, but it's not clear if it would have taken any longer than Skull and Bones already has.