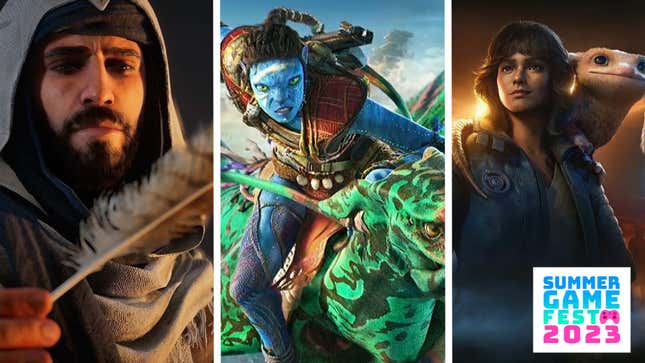 Today, June 12, Ubisoft became the latest big game publisher to hop on stage and announce new games as part of Geoff Keighley's big, not-E3 Summer Game Fest 2023 extravaganza. In the last year or so, Ubisoft has struggled to consistently release games and has continued to delay and push back big titles, like Skull and Bones and that Prince of Persia: Sands of Time remake. So today, the publisher likely needed to show not only that it has big games coming in the future, but also that it has some stuff coming out sooner rather than later.

A Foe From The Next Team Ninja Game Is Giving Me Sekiro PTSD
Did they succeed? Continue on for our round-up of everything Ubisoft revealed, announced, and presented.
You can also watch the full presentation below:
---
Avatar: Frontiers of Pandora's first gameplay trailer
Ubisoft kicked off the show with the first gameplay trailer for its big Avatar game, Frontiers of Pandora. In the trailer, we meet the main character, a former-RDA Navi who is now fighting back against the humans, who are returning to invade and conquer Pandora.
In the gameplay trailer, we see a lot of familiar creatures and weapons from the films as well as a lot of first-person shooting that looks very Far-Cry-like. Ubisoft also mentioned it's an open-world adventure and that the main campaign supports co-op.
After the trailer, Avatar creator and director James Cameron showed up to talk about "embracing technology" to tell more stories in this universe.
Ubisoft confirmed Avatar: Frontiers of Pandora is out on December 7.

---
XDefiant coming out later this year
Ubisoft announced that its PvP-focused FPS, Xdefiant, has had over 1 million players check it out during its various closed betas. The publisher also announced a new open beta that will take place between June 21 to June 23. As for a release date for this shooter, Ubisoft only said "later this summer."
---
More info about Prince of Persia: The Lost Crown
Ubisoft took some time during its showcase to reveal more details about its upcoming Prince of Persia game, The Lost Crown. Your mission in the game is to track down the missing prince who has been abducted.
This new Prince of Persia features 2D gameplay, hearkening back to the earliest games in the series. This entry is also apparently "semi open-world" and will focus on exploration as well as combat. The world you explore in-game is also a bit odd, with time not quite working the same here as it does elsewhere. In other words, some of the time travel shenanigans from other PoP games are here, too.
Prince of Persia: The Lost Crown is due out on Jan 18, 2024.
---
Captain Laserhawk: A Blood Dragon Remix
In a painfully awkward to-watch bit on stage, Ubisoft announced a new anime adaption of its popular Far Cry 3: Blood Dragon franchise. It looks neat, I guess, but I just can't get over how weird the announcement of this series was. It had big "E3 2010" vibes. The series is coming to Netflix and here's the teaser:
---
The Division: Resurgence
The mobile spin-off of The Division is coming in Fall 2023 and we got a new cinematic trailer for it. That's about it... but nice to know it's still coming!
---
Skull & Bones on-stage song
Ubisoft really brought the mid-2000s, oddball E3 energy to this show, and this bit where some dudes sang a sea shanty in front of Skull & Bones gameplay had me laughing. That's probably not what they were going for, but hey, I'm only human. Oh, also there will be a closed beta for Ubisoft's long-delayed pirate game between Aug 25-28.
---
A brief reminder of Mario + Rabbids DLC
The final DLC for Mario + Rabbids: Sparks of Hope got a short teaser during the showcase, confirming a release date of "later in 2023." Ubisoft's platformer hero Rayman is going to be a part of this last expansion.
---
The Crew: Motorfest
After some leaks earlier this month, Ubisoft officially showed off its next entry in its open-world racing series, The Crew: Motorfest. This new one is set in Hawaii and will feature a huge list of cars and challenges.
Ubisoft also confirmed that players will be able to import their car collection from The Crew 2 into this new entry at no extra cost. Motorfest is out September 14.
---
Assassin's Creed: Nexus VR game
Have you ever wanted to run around as an Assassin in virtual reality? Well, Ubisoft has a new Meta Quest VR game coming this holiday season that might be just for you. Ezio, Cassandra, and Connor star in this new spin-off, letting you play as all three iconic assassins. The game will be out later this year on Meta Quest 2 and 3.
---
Assassin's Creed: Codename Jade closed beta
Ubisoft also revealed that the previously announced Assassin's Creed open-world mobile spin-off, currently known as Codename Jade, will be getting a closed beta in the near future. We also got a new gameplay teaser of the spin-off.
---
New details and gameplay of Assassin's Creed: Mirage
Basim, who first appeared in Assassin's Creed: Valhalla, is back in the upcoming Assassin's Creed: Mirage. We already knew Mirage was an origin story for the character, but today Ubisoft showed more of the game's narrative and its open-world gameplay.
In the gameplay we see Basim sneaking and free-running around a crowded city in a way that reminded me a lot of earlier Assassin's Creed games. In some ways it looked like what the original Assassin's Creed might have looked like had it been made in 2023.
Assassin's Creed: Mirage will launch on October 12.
---
Star Wars: Outlaws gameplay
Ubisoft closed the show with the first gameplay of Star Wars: Outlaws. The game will feature a story focused on heists, the criminal underworld, and outrunning the oppressive Empire.
In the gameplay trailer, we see the main character Kay Vess sneaking around a base filled with members of Pyke Syndicate. Using her pet and her trusty blaster, she's able to sneak and fight her way out of the base, escaping on a swoop bike outside.
We also see some space combat, but more interestingly, before that, we see our main character get in a ship and fly it off-world seamlessly. If this is how exploration works for the whole game, I'll be very impressed.
Visually, Outlaws looks fantastic, reminding me at times of the incredible gameplay trailer for the canned Star Wars: 1313.
---
Kotaku is covering everything Summer Game Fest, from the main show on Thursday to other events happening throughout the next week. Whether you're into larger-than-life triple-A games or intimate, offbeat indies, you can keep up with all things SGF here.