All eyes today may be on the bigger E3 press conferences (like Ubisoft's), but under-the-radar games deserve some love, too. Last weekend, the Guerrilla Collective showcase presented 40 indie games, marking an unofficial start of the E3 season. It returned today for a second showcase spotlighting another 40 or so games from independent developers. Here's what went down:

The 3D stealth game Aragami 2 is out September 17 for PlayStation 4, PlayStation 5, Xbox One, Xbox Series X/S, and PC. You have control over shadows, which sounds—and looks—very badass.
Firegirl is a side-scrolling firefighting game in which you have to rescue civilians in various burning biomes, from skyscrapers to forest fires. No release date, but it's planned for PC and consoles.
Batora Lost Haven is a fantasy-inspired 3D action RPG with twin-stick combat and environmental puzzles reminiscent of Immortals Fenyx Rising. Release date TBA.
I'm not sure what to make of Grime, an action RPG that developer Clover Bite showed off with a trailer that featured two humanoid creatures getting real cozy before...a black hole pops up. Weird. I'm into it.
We got another trailer for BPM: Bullets Per Minute, an awesome music-based roguelite shooter. The game is currently out on PC, but it's coming to PS4 and Xbox One this summer.
Oh, no, I'm already over the moon for Akatori. Gorgeous pixel art, side-scrolling platforming, tight combat? Yeah, sign me up.
Archvale, out later this year for Switch and PC, looks like a top-down Zelda-inspired adventure.
Digging the art style of No Longer Home, an adventure game about "letting go of the life you've built due to circumstances beyond your control." The demo currently out on Steam.
G/O Media may get a commission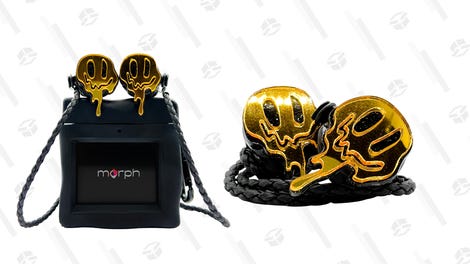 morph audio
Morph Earphones
Bats: Bloodsucker Anti Terror Squad is an effervescently gory side-scrolling action game that was just announced during today's stream.
Per its developers, the action-RPG Death Trash features "cosmic horrors" and "punks with shotguns."
Serial Cleaners, an isometric stealth game, takes place in the '90s and casts you as mob cleaners (the folks who "clean up" a murder or several).
Getting some serious Limbo vibes from White Shadows, a pensive-looking puzzle-platformer that's all black and white. Devs say that those who've played describe it as "dark," an apparent reference to both the visuals and the subject matter.
We got another trailer for the isometric action platformer Raji: An Ancient Epic. Free advice: Do not sleep on this game.
Despots Game is a "roguelite auto battler." Apparently, if you make it far enough into a run, the game switches from single- to multiplayer. The demo currently on Steam, if you're curious about how that all works.
If you failed chemistry in school, Potion Craft: Alchemist Simulator, which has a demo on Steam right now, offers a second chance.
Rawmen: Food Fighter Arena is a 3D arena battler that features food fights rather than the typical swords, shields, and other deadly weapons.
At first glance, Happy's Humble Burger Farm is a burger-cooking sim. Then the cows come in, and it pivots to a full-on first-person horror game.
Hello Neighbor 2, a stealth survival game sequel starring a constantly learning AI, received another trailer.
Trash Sailors is a sailing sim with a four-player co-op and an art style that smacks of Flapjack, the cartoon that was popular several years ago. It will be out for PS4, Xbox One, PC, and Switch with an undefined release date.
Co-host Justin Woodward caught up with developers from Innersloth to discuss the development of Among Us. "Going from three people to...eight is such a different work environment," Innersloth's Marcus Bromander said.
Blooming Business: Casino is a casino management game in which every character is an animal.
Robodunk is a mech-dunking (giant robots plus basketball, duh) game.
King of the Hat is a party game about throwing hats at each other and seemingly wearing them too, out later this year for Steam.
Given the art style and mellow music, the skateboarding adventure game Venice 2089 seems quite twee. Then the sea levels rise, threatening to swallow the city whole, an undeniable reminder of what's in store for our planet IRL. Oof.
Behind the Frame is a puzzle game about helping an artist paint. Also, there's a cat.
The follow-up to Super Bernie World, Kitsune Tails is a side-scrolling platformer inspired by Japanese mythology.
We got a brief look at Whitewater Wipeout, a game for the upcoming Playdate handheld.
Arcade Paradise features games within a game about slowly but surely amassing arcade cabinets, which is out for basically every platform later this year.
Woodward chatted with Douglas Bogart of Limited Run Games about the publisher's runaway success. "We've done, like, close to 700, 800 individual releases now," said Bogart.
And that's a wrap. Today's show was immediately followed by the Wholesome Direct, itself a notable showcase of smaller games. There's a lot of spectacle planned for later today, so it's safe to assume that Ubisoft will show off a ton of blockbusters (like Far Cry 6) and for Gearbox to unveil details about its recently announced Tiny Tina's Wonderlands, a spinoff in its mega-popular Borderlands series.