Red 5 Studios went to a lot of trouble to make some real-life outfits based on their online shooter Firefall, so it's understandable they went and made a live-action trailer for the game's impending public debut.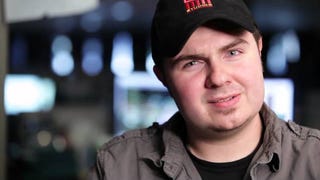 There is nothing more mundane in the world of video game marketing than the bullet-point announcement. Unless the game's developers go to the trouble of kinda realising this, and dressing the "news" up as an excuse to make a neat little video where everybody who works there gets to pretend they're about to give the…
To help shill their upcoming Firefall, Red 5 Studios is employing two models to play the part of the game's characters at press events and shows. One is cosplayer Crystal Graziano, who Red 5 is also sponsoring for a full year. The other is not a cosplayer. He's an actor and...American Gladiator.
Firefall is an upcoming co-op shooter for the PC, made by Red 5 Studios, which is helmed by the guy who was team lead on World of Warcraft. So it should know what it's doing when it comes to online gaming.
Orange County, California might be bland, confesses one developer of Red 5's team-based shooter Firefall, but the game certainly is not. Armor-bound medics squirt now de rigueur healing ribbons that glow a pale green to extrude life back into teammates wearing primary yellow or red that's too busy for G or B.
For a game that the developer will be handing out for free, Firefall looks impressively promising. The large scale team-based online shooter—don't call it an MMO—is certainly pretty from way up here.