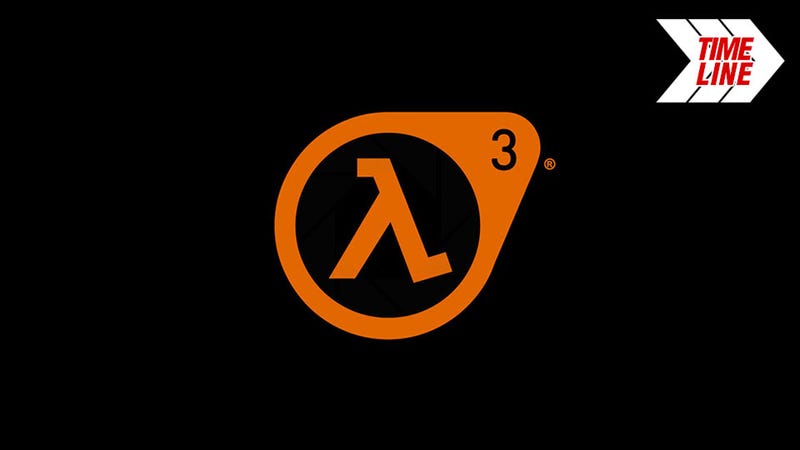 Remember when you first finished Half-Life 2: Episode 2? The excitement? The shock? You were ready to set out with Alyx at your side, ready to show those alien bastards who's boss. The trilogy, and with it, the Combine's rule over Earth, would end soon.
Except it didn't. At the time of this writing, almost five years have passed since the supposed release date of the final installment in Gordon Freeman's saga. Half-Life 2: Episode Three was slated to arrive Christmas 2007. It didn't. As the weeks and months went by, confused fans tried to glean whatever information they could from Valve, but, by and large, they were unsuccessful. The company remained silent.
In this Kotaku Timeline, we follow the fans' process of dealing with Valve's silence, cataloging their forays into leaked code, and their communications with the developers. We detail the ways the gaming press interacted with Valve over the years, and list what little has been revealed. In addition, we will keep watch over the game, and take note of any events, good or bad, in the months and years to come.
There were no mentions of the final episode—called Half-Life 3 by some—between 1999, when Valve registered the domain halflife3.com, and 2006. But then, announcements were made, and names were dropped. And so this is where our timeline begins...
---

---
---
---
---

---
Lombardi: "Pre-production is definitely going, and it'll be ramping up rather quickly now that they're ramping down on Episode Two."
---
---
---

---
GTTV: Episode 3. What do we know about it? What can you tell us?

Gabe: From our point of view there's enough newness in there that we want to sort of spring it on people and say "here's a bunch of things you've never seen before" — we have multiple of those.

GTTV: And that's graphically, or in terms of the gameplay, or...

Gabe: There's stuff that visually hasn't been in games before, and there's certainly a bunch of game elements, on the order of Portal, that have never been done before.

GTTV: So even better than the portal gun?

Gabe: Oh yeah.

GTTV: Really? New gameplay paradigms?

Gabe: Uh-huh. I think that we're really happy with how the Orange Box did, and we'd do an Oranger Box next time, certainly.
---
Three files are found by a Steam forum user in a folder titled "Episode3" in the Source SDK. They're later described as unused leftover assets by a Valve employee.
---
---
---
---
---

---
---
---
---

---
---
Gabe: "I feel like we've gotten away from genuinely scaring the player more than I'd like."
---
---
---
Peter Molyneux puts up a video of his son protesting Valve's silence.
---
The "Call for Communication" petition hits its original goal of 1000 collected signatures. The creator sends an email to Valve, but unfortunately, there's no response.
---

---
---
---
Keighley: "Portal 2 will probably be Valve's last game with an isolated single-player experience."
---
Gabe talks about the importance of sharing your single-player experience with friends in an interview with a high-school student.
---
---
Replying to reporters asking for appointment times for E3 2011, Valve announces that they won't be showcasing any games at the event.
---
Gabe: "If you know enough to ask the question, you know what the answer is."
---
---
It's day two for the protest on Valve's lawn, and it's still going strong.
---
---
---
---
---
---
---
---
Two video game journalists decide to make a bet. Their dignity's on the line.
---
---
---
---
---
JPL: "Wish I had better news for you. I would love to do another episode."
---
---
Faliszek: "This is the community trolling the community, nothing more."
---

---
---
MtV: "Your oldest and longest running fanbase would like better communication."
---
---
---
---
---
---
---
---
---
Gabe: "We think that the twists and turns that we're going through would probably drive people more crazy than just being silent about it."
---
---
Shock and awe.
---
---
---
---
---
Doug Lombardi confirms that the listing was a mistake. Oh well.
---
---
Gabe: "I hate sharks."
---
---
---
---
developer:
valve corporation
publisher:
valve corporation
platform:
pc
release date:
tba
genre:
first-person shooter
modes:
single-player
rating:
tba