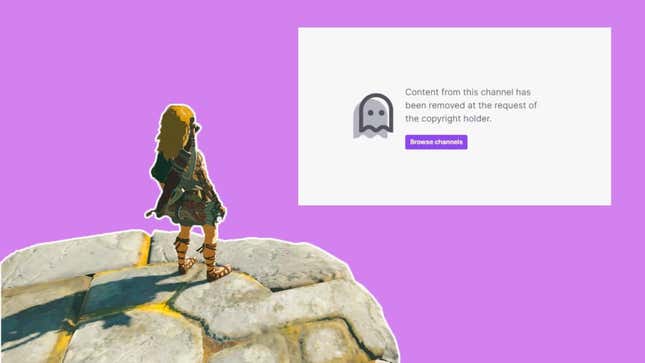 Nintendo is not messing around when it comes to The Legend of Zelda: Tears of the Kingdom leaks. In fact it's so aggro right now, it seems to have unintentionally snagged innocent content creators simply sharing official footage in its copyright clampdown. God of War writer and streamer Alanah Pearce said she was temporarily banned from Twitch after Nintendo DMCA'd her channel for reacting to an existing video preview of the game.
Ever since copies of Tears of the Kingdom leaked early and started spreading online due to piracy, Nintendo has been in a frenzy, removing social media channels and Discord servers promoting leaked footage and secrets from the game. At first slow to react, the company now appears to be hitting anything that remotely looks like a leak with a takedown notice.
"lol my Twitch just got suspended mid-stream because I was reacting to @SkillUpYT's Zelda preview video," Pearce tweeted on May 8. She was in the middle of streaming footage from the YouTuber SkilUp's Nintendo-sanctioned preview of Tears of the Kingdom when her channel was taken offline due to a copyright strike by the company. "Absolute banger of a week this week tbh," she wrote.
In a brief YouTube video on the subject, the content creator and former IGN host said it was her first ever Twitch suspension and wondered if it may have just been the result of someone at the company seeing her channel and panicking that she was streaming a leaked copy of the game before actually watching to see what was going on.
"I know Nintendo does not like me, I've been told that, even though I have friends who work there," Pearce said jokingly. "Maybe it was targeted intentionally and they're just trying to get me to not be excited about Zelda. I don't know." She appealed the ban, however, and it has since been overturned as an erroneous DMCA request.
Read More: Everything We're Learning About Zelda: Tears Of The Kingdom From The Leaks
But Pearce hasn't been the only one caught up in some overzealous attempts to squash leaks. Nintendo YouTuber Austin John Plays shared a tweet with a screenshot from one of IGN's previews that was also seemingly removed at the company's request. "I received a DCMA takedown of my tweet from anti-piracy Nintendo of Japan for my tweet about IGN's video and the word [autobuild]," he wrote on May 8. "They took mine down but haven't [done] anything about IGN's 1.2M video."
Nintendo even accidentally hit itself with a takedown notice. Yesterday, a tweet by the official Zelda Twitter account in Japan temporarily had a "media not displayed" error after a screenshot from the game was removed "in response to a report from the copyright holder." "How the hell do you copyright claim yourself," one commenter responded. Redfall fell into a similar trap after leaking earlier this month, striking art from the game's official Twitter account by accident.
But Nintendo's crackdown is part of a broader effort to exert total control over its games and how they appear online. After the Tears of the Kingdom artbook leaked in February, the company subpoenaed Discord for the personal information of one of the users involved in posting about it. And popular Zelda YouTubers like Eric "PointCrow" Morino recently saw a number of old Breath of the Wild videos nuked from their channels because they were associated with modded content. We'll see if things cool down at all once Tears of the Kingdom is officially out on May 12.