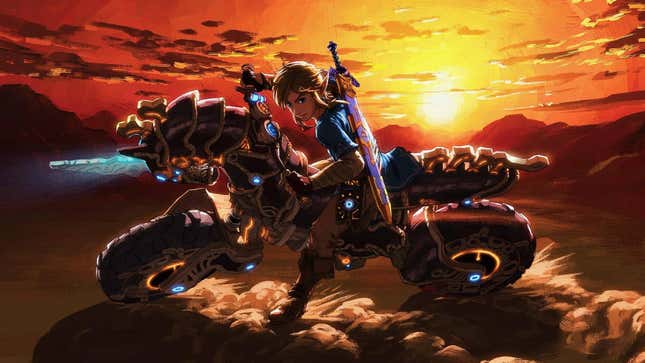 YouTuber and speedrunner Eric "PointCrow" Morino released a brand new multiplayer mod for The Legend of Zelda: Breath of the Wild on April 4. It basically transforms the hit 2017 Switch game into a modern open-world version of the beloved co-op Zelda spin-off Four Swords Adventures. A couple of days later, Morino says Nintendo hit him with copyright infringement claims that led some of his biggest YouTube videos to be demonetized.
Skyward Sword HD Revisits The Stumble That Led To Breath Of The Wild
"Incredibly disappointed that Nintendo of America has decided to block my videos on Breath of the Wild," he tweeted on April 6. "It's the love for the community and the innovation that we bring to it that has kept it alive & brought new people to love the Zelda series. I hope you reverse your decision soon." Morino also shared a screencap of several of his YouTube videos, including ones featuring gameplay footage from the multiplayer mod, showing they'd been flagged for copyright issues.
Nintendo didn't immediately respond to a request for comment.
Publishers maintain they have full ownership and control over any footage produced from their games, but they rarely seek to penalize YouTubers and other content creators for sharing it online and potentially profiting off of it. In fact most companies go out of their way to promote the sharing of footage and screenshots from their games to help spread awareness, increase sales, and cultivate a community of passionate fans.
When it comes to social media content around fan projects and mods, however, Nintendo is one company that's often aggressively pushed back. Late last year, the Switch manufacturer went after a YouTube documentary about an abandoned pitch for a Zelda tactics spin-off, seeking to get it removed from Google's platform. The creators eventually managed to appeal the decision and get it reversed.
In response to Morino's post, several other big content creators chimed in. "Not good for them considering they're releasing a new game soon and many content creators will popularize it even more and may choose not to create videos around it," wrote Kittyplays. "Nintendo detected fans having fun and they can't have that," wrote LostPause. "This is sad given how much love and effort you given them and botw."
Breath of the Wild is the fourth best-selling game on Switch, and has remained relevant years after its release in part due to the discoveries, tricks, and new stunts pulled off by people like Morino. Outside of the recent multiplayer mod, he's drawn millions of additional eyeballs to the game with weird runs like Link growing bigger every time the A button is pressed, or trying to beat the game while both the hardest randomizer mode and the very difficult, map-changing Relics of the Past mod are active.
Morino didn't immediately respond to a request for comment but tweeted that he's currently appealing the decision with YouTube. "As of now, [the videos are still visible for you to watch—however, they are not monetized," he wrote. "Hopefully Nintendo releases these claims, as I significantly transform their work and my videos are under fair use."