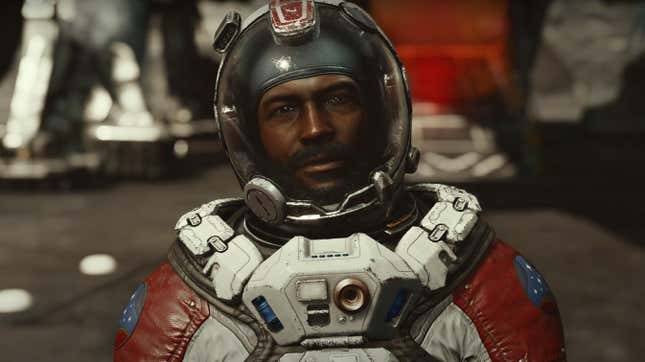 The average Starfield player is completing the main quest in Bethesda's role-playing game in around 18 hours, the website How Long To Beat estimates. It takes around 49 hours to finish both the main quest and major side quests.
Though, you should assume those numbers come with a couple of caveats. First, as of writing, How Long To Beat is basing its average off of a modest 72-person pool, one that is likely filled with particularly restless gamers (Starfield is still a sizzling hot release; it's been out in Early Access since August 31 at 8 p.m. Eastern, but it didn't officially release until September 5 at 8 p.m. Eastern).
Then, How Long To Beat currently says a "completionist" playthrough will take you 205 hours, or about eight-and-a-half days straight. Since the game hasn't even been available to the public for that long, we can guess that that number comes from reviewers, or anyone else granted more hands-on time with the game.

Read More: Starfield Factions: How To Join And What They're All About
Buy Starfield: Amazon | Best Buy | GameStop
As players continue to share tips and guides with each other and discover hidden quests or other juicy secrets, I anticipate that How Long To Beat's average completion time will rise, and its "completionist" average will fall. If it helps, Bethesda head of publishing Pete Hines said earlier this summer that it took around 130 hours for Starfield to "really [...] get going" for him.

"Telling somebody, 'Oh, I played Starfield for 40 hours' tells you nothing about what that person has done," he said at the time. But that's just Pete Hines.

Read More: Bethesda Keeps Making The Same Game, For Better Or For Worse

No matter how long it takes you to play Starfield, you'll likely have a more snuggly, enjoyable time if you've played other Bethesda epics, like Fallout 4 or The Elder Scrolls.

"Like a warm, comforting, and utterly predictable bowl of oatmeal, Bethesda's open-world adventures often feel very similar," Kotaku staffer Zack Zwiezen writes. "I like a nice bowl of oatmeal, even if it's not the most creative or fresh meal in the world. I find Bethesda's RPGs comforting to return to. They all have tutorials, but I don't really need them."
Buy Starfield: Amazon | Best Buy | GameStop