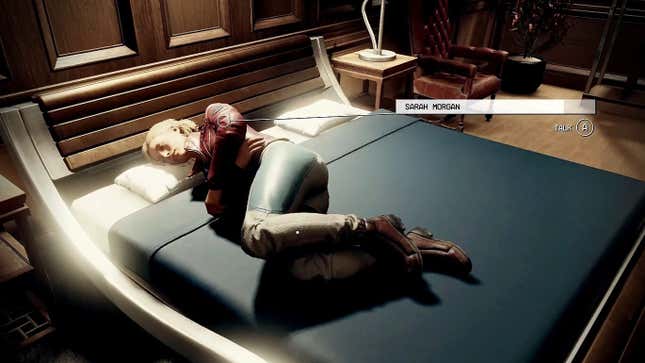 Starfield is a massive open-space RPG with hundreds of planets and solar systems to explore, so you're going to need all the tips and tricks you can get to survive the vast black of the cosmos. One of the best tips a Redditor recently discovered relates to an XP boost you get from simply having more sex.

Yeah, you read that right: If you just get laid here and there, you can increase the amount of experience you gain while traipsing the vast universe. The tip comes from Redditor VAASisJASON, who posted a screenshot to the Starfield subreddit on September 4 of a status effect they received in-game. This status effect apparently came after they romanced Andreja, a member of the artifact-searching group Constellation. When VAASisJASON took Andreja to bed, the Starfield player woke up to find that they had "Emotional Security," a status effect that increases XP gain by 15 percent for a whole 24 minutes. Sick.
Read More: Starfield Won't Show Sex, But Will Talk About How Kinky It Was
This isn't the first time Bethesda Game Studios has given you a bonus after getting a little bone in, however. As the Redditor explains sleeping with someone in Fallout 4 will give you "Lover's Embrace," a temporary perk that reportedly grants a 15 percent XP boost for eight hours. They also said sleeping with a companion is only an option when you start dating them, and you can only be in a relationship with one companion at a time. So, no cheating, y'all.
"Sorry should have expanded a bit. 10% XP boost when you just sleep in a bed normally," VAASisJASON said. "After you enter a romance with a companion they wake up in the bed you slept in, and you get a 15% XP boost instead. Not sure if they actually having to be following you or not though."
Kotaku reached out to Bethesda Game Studios for comment.
Read More: All Of Our Starfield Tips, Guides, News, And Reviews
Funnily enough, the Australian Classification Board dropped a rating for Starfield in March that revealed there was absolutely zero sex in the game. Starfield still doesn't actually show the act, opting instead to fade to black when you and your partner get in bed. Afterward, though, your lover will speak about how kinky the coitus was despite the game not giving a peepshow. That's fine. All we need is the emotional ecurity and experience points to survive in space.
Update: This story has been updated to change "hours" to "minutes."