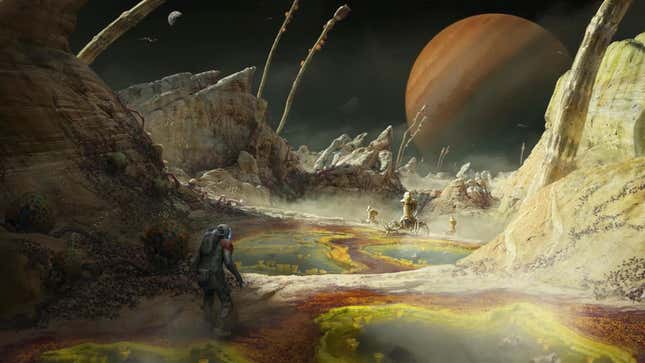 Starfield is "the biggest Bethesda game launch of all time," the developer announced on Twitter, with over 6 million players as of September 6, and its initial sales numbers appear to match its splashy reception. After releasing in Early Access beginning on August 31 and then launching globally on September 6, Starfield is topping digital and physical sales charts–despite being available for no cost to some as a free Game Pass title.

This Stylish Noir-Punk Side-Scroller Is Like Celeste With Guns
It's currently maintaining its number-two position, which it first assumed in August, on Steam's global top sales chart. The game is still unable to break Counter Strike: Global Offensive's 11-year winning streak, but it sure is trying its best: now, it sits at around 200,000 concurrent players. While that's barely a quarter of CS:GO's million concurrent players, Starfield is beating other era-defining Bethesda RPGs Skyrim (approximately 20,000 concurrents), Fallout 4 (15,000 concurrents), and The Elder Scrolls Online (14,000 concurrents).

Then, Starfield dominated the UK's physical sales chart last week, dethroning Hogwarts Legacy and Mario Kart 8 Deluxe.

"Starfield is No.1 in the UK boxed charts, which is impressive," GamesIndustry.Biz head Christopher Dring wrote in a September 10 Twitter thread. "It's not the biggest physical launch of 2022, [...] but it's almost identical to Diablo 4, and that's significant because Diablo 4 was a major digital hit."

"Throw in Game Pass," Dring continued. "This might be the biggest launch of 2023. And that's saying something."

Buy Starfield: Amazon | Best Buy | GameStop
Buy Game Pass Ultimate: Best Buy | GameStop
And, while both Xbox and PC owners with Game Pass subscriptions are able to play Starfield for free, some of these Bethesda devotees are choosing to give up $70 just to create an even more impressive launch for Starfield.

"I am on Game Pass, and I purchased the digital version," one person said in Dring's Twitter thread. "Three reasons: play [the Digital Premium Edition] early, support Xbox, support Bethesda Studios. It's something I will be playing for years to come; the better it does, the more support and content the game will get going forward."

Bethesda has not yet announced official Starfield sales numbers. Kotaku reached out to its parent company Microsoft for comment.