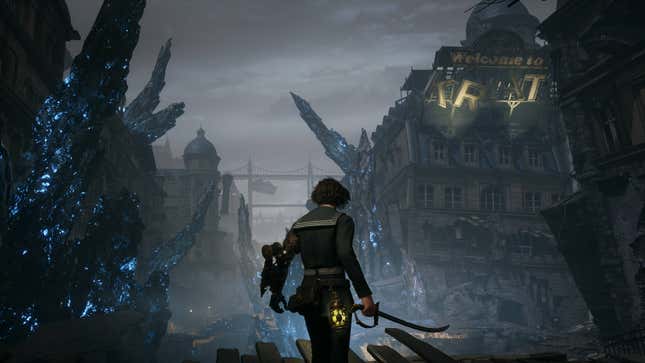 Early September looks pretty nice for Xbox's subscription service Game Pass. In a September 5 blog post, the company announced subscribers could expect to play action role-playing game Starfield, moody Soulslike Lies of P, and more in the first few weeks before fall.
Hollow Knight: Silksong's New Gameplay Trailer Is Living Rent-Free In Our Brains
If you haven't heard, Starfield is a NASA-punk, spacefarer role-playing game, and it might also be "the weirdest big new game experience I've had this year," Kotaku staffer Ethan Gach says in a recent VG Chat. It's playable now in Early Access, but it'll be officially out and available to everyone on Game Pass on September 5 at 8 p.m. Eastern.

Read More: Microsoft Axes Game Pass Free Trial Ahead Of Starfield Launch
Buy Game Pass Ultimate: Best Buy | GameStop
Gothic and grounded, developer Neowiz Games' Lies of P feels like Starfield's polar opposite, but it is likewise highly anticipated, and it will appear on Game Pass on its launch day (September 19). In it, "you'll equip Pinocchio with various stabby weapons to disassemble the terrorizing robots, locate Geppetto, and put an end to what's essentially become an armed, mechanized revolution against humans," Kotaku writer Levi Winslow writes in an impressions post.

Xbox Game Pass beginning of September 2023
While Bethesda in space and Pinocchio on DMT is likely more than enough to keep your hands full of gaming this month, Game Pass will also soon receive neon 3D platformer Solar Ash, and it has a few other games currently available to play.

Here's the first wave of September Game Pass:
Age of Empires IV: Anniversary Edition—"For years you've battled armies and made history your story. Now it's time to make history once more with a new breakthrough in strategy gaming"; out now on cloud and console
Call of the Wild: The Angler—"Be free to fish where you choose in this unique and approachable open world fishing game"; out now
Humankind—"A historical strategy game in which you'll be combining cultures to create a civilization that's as unique as you are"; out now for cloud and console
Starfield—"In this next generation role-playing game set amongst the stars, create any character you want and explore with unparalleled freedom as you embark on an epic journey to answer humanity's greatest mystery;" it'll be out everywhere on cloud, Xbox Series X/S, and PC on September 6
Solar Ash—"Set amidst a surreal dreamscape filled with long-abandoned ruins of great civilizations past, you play as Rei, a Voidrunner determined [...] to save her planet from falling prey to the Ultravoid's path of eternal hunger"; play it on cloud, console, and PC on September 14
Lies of P— "Lies of P is a thrilling soulslike that takes the story of Pinocchio, turns it on its head, and sets it against the darkly elegant backdrop of the Belle Epoque era"; find it on cloud, console, and PC on September 19
Buy Game Pass Ultimate: Best Buy | GameStop
What are you most looking forward to playing?