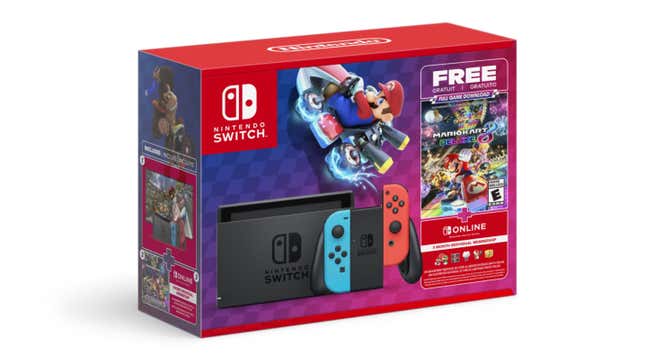 Nintendo announced in a September 5 blog post that it will release both a Mario Kart 8 Deluxe Nintendo Switch and two Nintendo Switch Lite Animal Crossing: New Horizons bundles on October 6. The Mario Kart bundle "offers players everything they need to start their Super Mario adventures," Nintendo writes, while the Animal Crossing bundle provides New Horizons fans with two brand new Switch Lite designs.

New Pokémon Scarlet And Violet Trailer Features Hot Profs, 4-Player Co-Op, And Lechonk, The Hero We Deserve
Nintendo seems to be forming a very Switch-themed 2023. It had already announced a few bundles for March's Mario Day, including one that featured Mario Kart, and it more recently revealed a Super Mario Bros. Wonder-themed OLED, which is also slated for an October 6 release.

Nintendo's Mario Kart 8 Switch bundle
The even more recently announced Mario bundle will cost $300, the typical price of a normal Switch, and it's the more robust of the two bundle types. It comes with a standard Switch, with red and blue JoyCon controllers, a digital download code for Mario Kart 8 Deluxe (currently $60 on the Nintendo Store), and a three-month long individual membership to Nintendo Switch Online, which is stocked with a ton of retro games and lets you play online multiplayer.

Buy Mario Kart 8 Deluxe Nintendo Switch: Amazon
Or, in Mario Kart terms, "this offer allows even more drivers to team up with Mario and his friends to race underwater, in the sky, upside-down in zero-G, and past the finish line in 48 courses," Nintendo writes in its blog.
Nintendo's Animal Crossing Switch bundle(s)
The Animal Crossing Switch Lite bundles both cost $200, Nintendo's usual asking price for a Switch Lite, which can only be used as a handheld console and doesn't come with JoyCons. Neither of these bundles contain a Switch Online membership, either, but they could still be worth it for the overall discount, especially for cozy gamers who don't yet have a Switch Lite or Nintendo's cutesy 2020 social sim.

The Target-exclusive Isabelle's Aloha Edition bundle features a new, coral pink Switch Lite design with an Animal Crossing leaf motif next to its home button and across its back, and the Walmart-exclusive Timmy & Tommy's Aloha Edition shows the same design, but in fresh turquoise. Both Lite bundles come with digital downloads of the game ($60 on the Store).

Buy Isabelle's Aloha Edition Nintendo Switch: Target

"Nintendo is kicking off the holidays early this year," the developer writes in its blog. That's one excuse you could go with, or you could just call it treating yourself.