Kotaku has been going strong since 2004 thanks to many of you. You send us great tips. You recommend interesting articles. We can't only count on homegrown success, so we're forever interested in collaborating with you. To that end, here's what we'd love to get from you:
News tips!
Kotaku writers check the inbox for tips@kotaku.com every hour of every day. Some of our biggest stories have come from e-mails sent to that address, some from people we know, some from people we don't.
These Great Fortnite Creative Maps Show Us What's Possible
What makes for a good news tip? We care about things that you yourself find interesting or surprising. We care about what excites you or outrages you. We are the voice for the little guy—for the employee getting screwed over, the gamer not getting a fair shake. We are also a voice to help people know what's cool to play and what to avoid. We primarily want gaming news, and we care about it whether it comes from a gamer, a game-maker or anyone else who gives a damn about video games. And, hey, if you have pictures or video of whatever you want us to know about, all the better.
Need to be anonymous? That's fine, but we'll have more questions for you. Our tips inbox is only read by full-time staffers. If you want to send an e-mail to an individual Kotaku writer, find your favorite one on our masthead and shoot them a note.
What makes for a bad news tip? Telling us that you launched a Kickstarter and thinking that'll hook our attention; stuff that you know is boring; tempests in teapots.
G/O Media may get a commission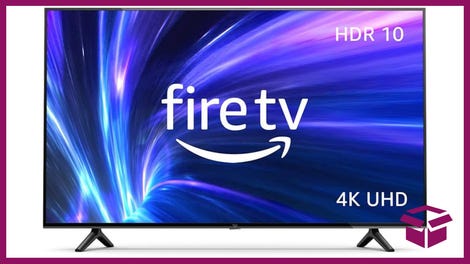 42% Off
Amazon Fire TV 50" 4K Smart TV
Your gaming adventures
Similar to news tips, but different. In the old days, the games media was all about what game creators and game companies do. We also care about what gamers do.
Did you just play through Call of Duty without firing a shot? Are you one of the last dozen people playing the multiplayer in a game that's long since faded in popularity? Did you see someone pull off a crazy move in a Street Fighter tournament and happen to get video of it? Have you found a glitch no one knows about? Were you the person who figured out how to game the Steam summer sale? Did you make an incredible mod for your kids?
We want to hear about that stuff. Send it to tips. Send it to the staff. Your pick!
Submissions to the Highlight Reel
We care so much about the cool things that gamers are doing in games that we've created a video show all about those moments. We call it Highlight Reel. You can see new episodes of it a few times each week or directly at this link. To be clear, its in its infancy, but it's based on our theory that 1) gamers are doing amazing things in games every day and 2) that there's video proof of this.
Highlight Reel is designed to showcase the best of those clips. So if you see one or experience one, we want to know. Capture your clip on your console. Send it our way. Put it on YouTube. Send us a link. Spot someone else's amazing moment? Pass that along. Submit the coolest moments to highlightreel@kotaku.com.
Think of Highlight Reel as a little bit of SportsCenter for gamers, showing you the amazing moments that just happened in games.
Volunteers for Q&As with readers
Are you an interesting person? Maybe you're an enterprising indie developer or, perhaps, the CEO of Activision. Perhaps you're a hacker, a troll, a League of Legends pro who wants to give advice to new players, or a person who runs the world's biggest Final Fantasy fan site.
Maybe you're someone who writes video game instruction manuals or a lifelong tester or a voice actor or a janitor who has worked the LA convention center at E3. Maybe you're the person who drew the tires in a popular racing game. Or are you, by any chance, Gabe Newell?
Well, good news, we've done popular Q&As with people like you and our millions of readers before. We'd love to do more. All you need to do is e-mail us and we can set it up. We'll approve the idea, make a starter post, give your commenting account special interviewee powers and then all you'll have to do is reply to the best questions readers drop below the post. Easy. Send requests to Kotaku's senior editors (that's Stephen (me!) or Tina).
Your best Kinja writing
Kotaku is part of Gawker Media. Gawker Media sites run on a platform called Kinja. Anyone can publish an article to Kinja, simply by clicking the "hamburger" icon in the top left corner of the site and deciding to compose a post (more tips on how-to-use Kotaku and Kinja here). Let's say you decide to do this and write something great. Perhaps you even got it published on our reader-run sister site TAY? You should let us know! We'd be happy to feature it on our site if it's great. Or maybe it's not perfect... it could still be a way for aspiring Kotaku writers out there to show.
Alerts about jerks
We remain dedicated to shoving bigots and malcontents out of our community. Lively debate is cool, but harassment, trolling and prejudice have no place here. As some of you already do, please report abusive comments to feedback@kotaku.com.
Whatever I'm not thinking of that's cool
Send that, too.
Thank you!
To contact the author of this post, write to stephentotilo@kotaku.com or find him on Twitter @stephentotilo.
Top image by Sam Woolley