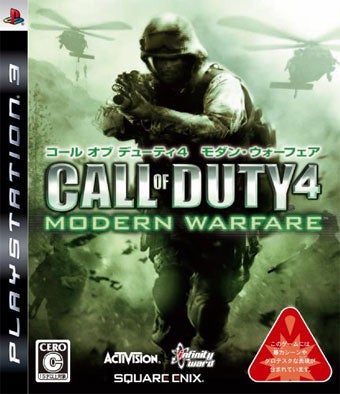 There comes a time when even underappreciated PlayStation 3 games like Valkyria Chronicles can outsell the Metal Gear Solid and Grand Theft Autos of the world. And, at least in Japan, it's when those games reach "greatest hits" budget prices.
Famitsu—and we're guessing parent company Enterbrain—have tracked some of 2009's bestselling games that bear the budget price, known on the Sony side as "PlayStation 3 the Best" titles and on the Microsoft side, "Platinum Hits." We realize you probably weren't asking yourself this morning, "What price reduced games from 2008 sold pretty darn well in Japan in 2009?" but Famitsu is here to answer that unasked question.
The two bestsellers are Call of Duty 4: Modern Warfare on the PS3 side, Ace Combat 6: Fires of Liberation on the 360 side. And that's where the race is closest, as the PlayStation brand is clearly winning the budget priced war in numbers, according to Famitsu.
Here's the list.
PlayStation 3 the Best
01. Call of Duty 4: Modern Warfare - 88,753
02. Everybody's Golf 5 - 88,346
03. Valkyria Chronicles - 81,625
04. Metal Gear Solid 4: Guns of the Patriots - 59,092
05. Yakuza Kenzan! - 55,226
06. Uncharted: Drake's Fortune - 39,679
07. Grand Theft Auto IV - 33,202
08. Devil May Cry 4 - 23,770
09. Mahjong Fight Club - 20,656
10. Way of the Samurai 3 Plus - 20,593
Xbox 360 Platinum Hits
01. Ace Combat 6: Fires of Liberation - 86,534
02. Beautiful Katamari - 74,166
03. Halo 3 - 25,508
04. Call of Duty 4: Modern Warfare - 24,567
05. Left 4 Dead - 12,988
06. Armored Core 4 Answer - 10,974
07. Idolmaster Twins - 6,621
08. Devil May Cry 4 - 6,360
09. Grand Theft Auto IV - 6,210
10. Fable 2 - 6,151
年末年始はPS3&Xbox 360廉価版で遊ぶのもあり!−−2009年廉価版ソフト販売本数TOP10 [Famitsu]