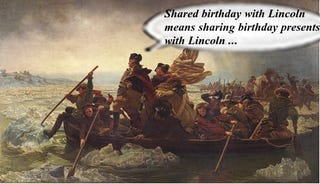 Poor George will have to console himself with the fact that not everyone gets a mattress sale on their birthday. Well, Abe gets one too.
Some housekeeping changes, before we get to the whatever-ya-wanna-talk-about. We've altered our publishing schedule on Saturday and Sunday, which means we've altered the times for our standing features and items.
Going forward, (all times U.S. Mountain) Saturday will begin with TAY at 8 a.m., our Originals roundup at 9 a.m., Weekend Coupons at 11 a.m., and Stick Jockey, Kotaku's column on sports, at 2 p.m.
Sunday kicks off with Kotaku Off-Topic at 8 a.m., Sunday Comics at 9 a.m., the Weekend Reader at noon, our Top 5 of Top 10 Lists and Week in Games at 3 and 4 p.m. as usual, respectively.
Thanks, now, Talk Amongst Yourselves!
Confused about commenting on Kotaku? Read our FAQ.