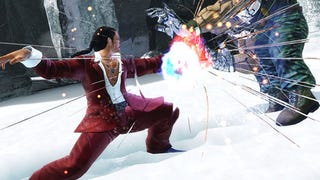 A Namco Bandai spokesman initially says portable fight fans will see all the trappings of Tekken 6 in the PSP version - DLC included. Then he appears to backtrack.
Talking to Siliconera, Arne Cual-Pedroso, the Namco public relations manager, said "pretty much everything in the console version will be in the PSP." That led to a question about DLC, and she said it will be provided for the PSP version as well.
Q: Are you going to sell downloadable content too?
A: For PSP? Yes.
Q: So kind of like how Idolm@ster has its own store?
A: Not that robust, but yes to meet everyone's needs we're working on it.
Well, maybe not so much. When the questioner pointed out Tekken 6 would be one of the few handheld games offering DLC, Cual-Pedroso backpedaled.
Actually, for the PSP downloads we are not sure. The main focus now is the high end versions. 360 and PS3 definitely have download contents.
I've emailed Arne to ask if there's a definitive answer to this, one way or the other. If she replies I'll update.
Update: Word from a source within Namco Bandai is that there are no plans for DLC for the PSP version.
Namco Bandai Games America's COO Talks About Tekken 6 And Westward Expansion [Siliconera via Joystiq]