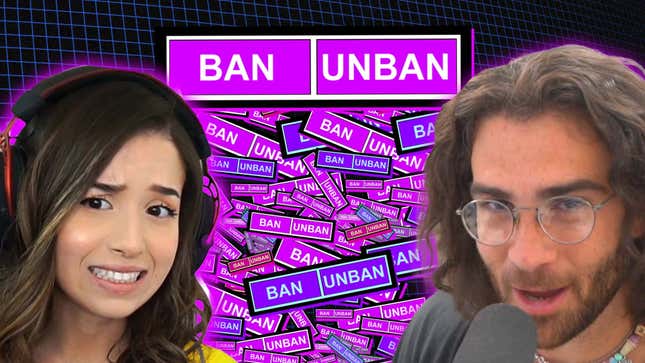 To succeed as a Twitch streamer, you need to have a robust community that's hyper-engaged with your content. Huge streamers like Pokimane, xQc, and Hasan Piker obtained millions of devoted followers by cultivating their streams to feel like a destination you'd want to visit and hang around in—hence the importance of Twitch chats, where viewers go to discuss the stream, the streamer, and more.

The more wholesome Twitch chatters spam emotes, type questions, and engage with the streamers, ultimately making a specific streamers' scene feel vibrant and worth being a part of. But not every viewer provides a valuable resource—others enter the chat to cause chaos, push boundaries, or endlessly type slurs. To keep their community healthy and safe from breaking Twitch's complicated Terms of Service, streamers can ban viewers. If, when, and why they ban viewers is up to their discretion—but like any punishment, there are some people who don't take it too well.

When viewers get banned in a streamer's chat, they have the chance to appeal the decision if the streamer has the option enabled. The streamer or their mods can then look at the messages the banned user has sent in the chat room and decide if it's worth granting amnesty or sending them straight to the banned shadow realm. Streamers can even add a message back to the banned chatter explaining their decision. The excuses can be anything, from a brief lapse of judgment to pure, unbridled remorse for what they typed. That's probably why seeing the plight of the most distraught members of their fan base pull in hundreds of thousands of views after the streamer turns it into content.
Here are some of the interesting and outlandish reasons why viewers have asked to get unbanned.