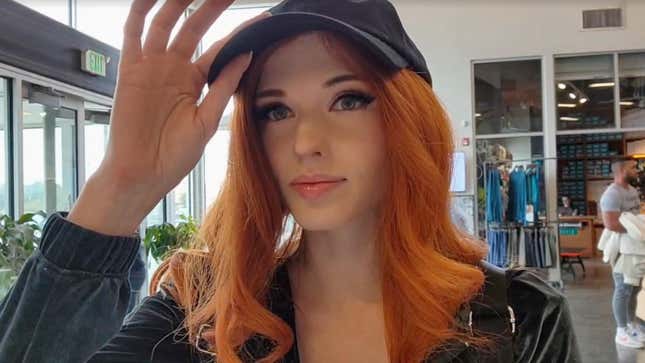 When 29-year-old Kaitlyn Siragusa—Twitch streamer Amouranth—said that if it weren't for her allegedly abusive husband's threats, she wouldn't post as much NSFW content, some self-decided experts online expressed skepticism instead of compassion. They sustained their bad attitudes through Siragusa's October announcement that she was filing for divorce, and continue to scrutinize her output for still being smutty. But in a recent Twitter thread, Siragusa says that an empire, even one covered in thorns like hers, needs time to change.
The Top Ten Most Played Games On Steam Deck: April 2023 Edition
"The MOST ignorant take I run into is when people say 'LOL you didn't change your content— you liar," she said in her thread. But "it would be selfish and irresponsible to do a 180 at a moment notice."

Siragusa explained that she directly employs nearly 20 people, and then hires another nine for editing and other services. About 15 of those employees were dedicated wholly to "spicy adjacent content," she said, and have since been reassigned either to Siragusa's creator management company Real Work or upcoming special projects. "I gave 60 days notice to my 'lewd' content staff letting them know they could find other employment but that their positions would be locked in for two months," she said in the thread. Kotaku reached out to Siragusa for comment.
"Non-content creators in the peanut gallery think I'm supposed to just lay off everyone and instantly change my content," she said on Twitter. But "doing all this in a deliberately measured way is the compassionate approach. I ultimately was able to find new positions for EVERY SINGLE STAFF MEMBER."

I won't step too deep in the mud about why pressuring Siragusa after disclosing domestic abuse sucks and is not grounded in reality, but be assured that doubting and sneering at victims sucks really hard and no one likes when you do it.

And anyway, a month after announcing her divorce, Siragusa shared statistics that revealed her content was changing. Hot tub streams used to take about 50 percent of her time on Twitch, she reported, but at the end of November 2022, that percentage dropped down to 10 percent of her broadcast time. At the time, she said she had been playing more Overwatch 2 than performing the lewd content she claimed her ex had been pressuring her to do prior to their split, something that otherwise would have "never happened."
"At this point Anyone who says I'm not in control is down a parasocial rabbit hole," Siragusa said in her recent thread. I do what I want now, and although many seem to relish in misconstruing my original words—it's always been about having personal agency. [...] Casting doubt about my autonomy is their new cope."