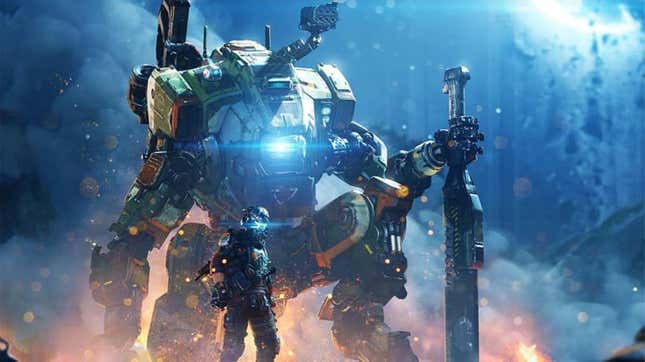 Titanfall 2 fans have been desperate for something resembling a sequel for years now, and it sounds like Electronic Arts may have just cancelled the next best thing. Bloomberg reports that a project called Titanfall Legends was quietly cancelled yesterday amid a series of other cuts at the FIFA game publisher.
The Witcher 3 Meets Tense Roguelike PvE Card-Battling In Rogue Mage
The game would have taken place in a shared universe between Titanfall 2 and Apex Legends, two acclaimed Respawn Entertainment shooters with lots of similarities that have seen plenty of fan speculation about overlapping lore in the past. Unlike the popular free-to-play battle royale, however, it was apparently planned as a single-player campaign.
Unfortunately, Bloomberg reports that the team of about 50 developers who were working on it were informed on Tuesday that the project had been cut. While the company would look for other positions to move the impacted staff to, anyone without a new position would be laid off.
EA did not immediately respond for comment.
The publisher also cancelled mobile versions of Apex Legends and Battlefield yesterday, with the studio behind the latter, Industrial Toys, getting shuttered in the process. It's not clear how many layoffs are taking place total across the company at this time. Star Wars Jedi: Survivor was delayed as well, though the development team at Respawn was positive about the move on social media, touting it as an opportunity to give the expansive sequel the extra time and polish it needs.
While it's not clear how far along the Titanfall Legends project was in development, fans will no doubt be left wondering what could have been. Back In 2021, a Respawn community manager told players there was nothing related to Titanfall in development, momentarily eliciting cries of anguish only for the studio's Twitter account to release a statement a day later stating that Titanfall "is the very core of our DNA."