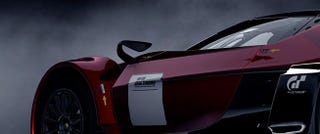 Four years after the PlayStation 3's launch, the console's definitive racer at last arrives. You're forgiven for waiting until you have it in hand to believe it. Other launches this week: Splatterhouse and Donkey Kong Country Returns.
Sunday (Nov. 21)
Donkey Kong Country Returns (Wii) - The big ape returns in this classically tough platformer. For the faint of heart, Super Guide is there to lead the way.
Also: Raving Rabbids: Travel in Time (Wii)
Monday (Nov. 22)
Poker Night at the Inventory (Mac, PC)
Red Dead Redemption: Undead Nightmare Collection (360, PS3)
Tuesday (Nov. 23)
Splatterhouse (360, PS3) - The reboot of this 1988 arcade brawler packs more over-the-top violence, blood and gore.
Also: Fable III: Understone Quest Pack (360); Football Manager 2011 (PC); Hot Wheels: Track Attack (DS, Wii); John Daly's Prostroke Golf (360); Majin and the Forsaken Kingdom (PS3, 360); Michael Jackson The Experience (DS, PSP, Wii); Monster Jam Path of Destruction (PS3); Pac-Man Championship Edition DX (PS3); Pro Evolution Soccer 2011(Wii); Sherlock Holmes: The Silver Earrings (PC, Wii); Worms: Battle Islands (Wii).
Wednesday (Nov. 24)
- Polyphony Digital's heavily anticipated racer brings 1,031 cars and dozens of courses.
Also: Crazy Taxi (360).
Looking Ahead
Nov. 29: Golden Sun: Dark Dawn. Nov. 30: Epic Mickey. Dec. 7: World of Warcraft: Cataclysm; TRON: Evolution; Bejeweled 3. Dec. 12: Super Mario All-Stars.
What are you getting? What do you want? What are you looking forward to? Sound it off below, and at #twig.