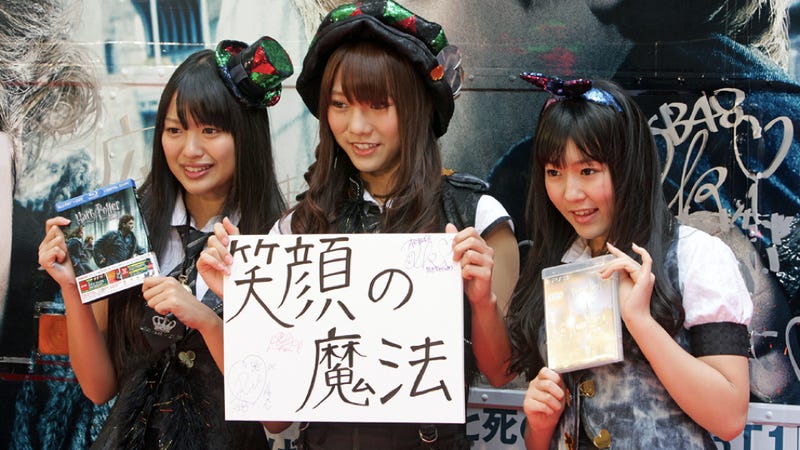 THE MAGIC OF SMILES | TOKYO, JAPAN: Members of idol group AKB48 promote the Japanese release of LEGO Harry Potter and Harry Potter and the Deathly Hallows: Part 1. (Photo by Game Watch Impress)
---
Make Games Or Porn? He Picked Games. Back before Sega game designer Toshihiro Nagoshi turned golden brown, he was just another kid from rural Japan, moving to Tokyo, trying to make it big.
---
The Colour Of Video Games Colour can be a strange and wonderful thing. Sometimes, all it's used for is to fill in the lines, or make something appear more "real", or more interesting. Yet other times it can be as powerful a force in our identification of a game as any character or soundtrack.
---
Super Mario 3DS Might Be Out This Year? When the Nintendo 3DS was first unveiled, we were shown a bunch of trailers from games that barely even existed yet. And even then, saw nothing of a new Mario game. So it'd be sweet if it actually came out this year.
---
Michael Jackson's Golden Game Boy Is Only $75! According to the bill of sale, this Game Boy was owned by Michael Jackson. He used it to court Macaulay Culkin. Culkin even set Tetris records on it. So $75 to call it your own is quite a steal!
---
Is The Entire PlayStation Network Down? [Update] Can you log onto the PlayStation Network via your PS3 console at the moment? We can't, and we're getting reports plenty of other people can't either.
---
Busy night! About to settle in for an evening of stupid television. Yay for stupid Japanese TV! –Brian Ashcraft
---
We like tips!
Got tips for our editors? Want to show the world your latest creation? Ready to anonymously share an unannounced game? Email us at tips@kotaku.com. Or leave us an anonymous voicemail at (612) 568-2581.
Lost in our new layout?
Click here for the Speak Up or Tips forums. Want a more "blog-like" look? Click the button up top next to "Top Stories."
Get more Kotaku!
Want even more Kotaku? Want to know which of your friends read us? "Like" us on Facebook and follow us on Twitter.