Welcome to the Best of Kotaku, where I round up all of this week's best content.
This week's best image is a re-highlighting of that awesome Borderlands cosplay Luke showed us this week. It's also very fitting since Borderlands 2 comes out so soon and I'll be spending my weekend playing it for a review for you guys.
Moving on to our Best Of content this week, we kick things off as usual with a comment from the community.
---
The Best Comment From The Community
Our favorite comment of this week comes to you from devwild:
No, I'm not looking backwards, I'm looking forwards, and I know that while there is room for improvement and even brand new gameplay, because of the limitations of the controls there are some game-types that I simply will never want to play on mobiles.

Developers are enjoying mobile, because the development is simpler and so is the sales model - plus you have a much larger customer base. It's much easier to go from concept to bank account on an iPhone than it is on a PS Vita. That doesn't mean gamers have to accept it as the future, or that the market should be shoehorned into it by hype.

I don't trust developers who tell me "mobile is the future", I trust developers who really enjoy creating games and experimenting with new and exciting platforms regardless of what they may be, and have the brains and foresight to put out products on platforms that work rather than platforms that are convenient.
G/O Media may get a commission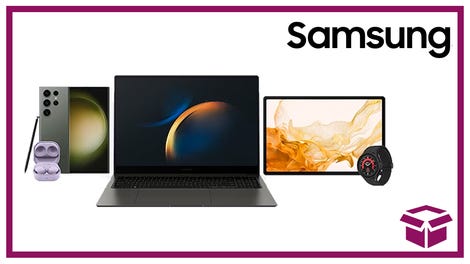 24 hour deals
Discover Samsung - Daily Deal
---
Jason Schreier gives us a sneak peek at Valve's Big Picture mode for Steam. More »
---
Kirk Hamilton explains the meme and game behind the creepy Slenderman. More »
---
Chris Person explains why he prefers weird games. More »
---
Jason interviews Chrise Kluwe about his love for RPGs and gaming in general. More »
---
Stephen Totilo writes out a eulogy for the Wii. More »
---
Evan Narcisse finds Tekken Tag Tournament 2 to encapsulate everything fans love about the fighting franchise with clever new features to boot. More »
---
Zac Gorman's latest comic is all about a game that includes everything he's ever wanted. More »
---
Evan reflects on the reboot of a series of DC Comics. More »
---
Evan tells us about Fuse, which used to be Overstrike, and what's changed. More »
---
Kirk gives you a rundown of his impressions of LittleBigPlanet six hours into the game. More »
---
Chris' video review tells us how it's aged as a game, and how it remains worthwhile. More »
---
Kate Cox begins to craft in Guild Wars 2. More »
---
Evan tells us what's great about the reveal of the iPhone 5 and what it means for gamers. More »
---
Kate tells us about a tragic loss, and a gaming community's touching reaction. More »
---
Owen Good appreciates the strategy and realism in NHL 13. More »
---
Stephen Totilo gives us a round-up of all of Nintendo's news from their recent conference. More »
---
Richard Eisenbeis finds Tokyo Jungle to be a very unique experience. More »
---
Kate compares hardware/console prices with the new Wii U reveal. More »
---
Jason tells us all about the TVii. More »
---
Kirk wants to swtich back to an iPhone to play games with his friends. Also Kirk doesn't have any friends (sorry Kirk I had to). More »
---
Patricia Hernandez tells us about a developer who went to war to get the education he needed to make video games. More »
---
Patricia wants to know what happened to the Hitlers in mech suits in shooters. More »
---
Jason has ideas for what the Wii U could do with JRPGs. More »
---
Kirk misses leaning in games. More »
---
Jason talks to Reggie Fils-Aime about what you'll first see when you boot up the Wii U. More »
---
Matt Hawkins tells us how Retribution is the film most like the video games its based on. More »
---