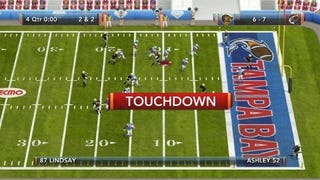 Tecmo's reboot of the console classic Tecmo Bowl arrives on Xbox Live on April 28 for 800 Microsoft Points, but there's no word yet on when PlayStation owners get in on the fun.
A news release from Tecmo said only "A release on PlayStation Network will soon follow."
Throwback will deliver an old-school 2D mode and an updated 3D presentation whose gameplay matches what you remember from the original Tecmo Bowl and Tecmo Super Bowl on the Nintendo Entertainment System. Though the game has no NFL or NFL Players' Association licensing, its roster will more or less match the performers from the 1991 game, just under different names. It also includes online multiplayer and a stupefyingly easy achievement set. No word if the halftime show still features cheerleader upskirts, though.