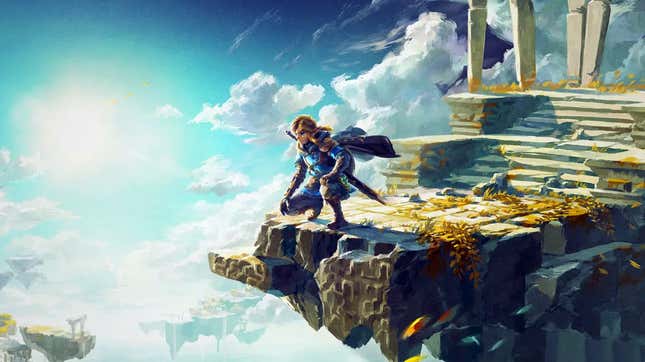 To say that Tears of the Kingdom is "feature rich" doesn't even scratch the surface of what the latest Zelda game offers players. Between the versatile abilities afforded to Link and the unexpectedly thorough physics simulation, utility and possibility are endless. But now that Tears of the Kingdom has been in the hands of gamers for a few months now, some are highlighting the features that aren't as useful, or could be improved.
Tears Of The Kingdom's Newspaper Questline And The State Of Hyrulean Journalism
A popular post on r/tearsofthekingdom from a few days ago starts off by highlighting what might be considered, if not useless, certainly one of the game's most underused features: The prompt to climb down with a push of the A button.
You'll have seen this nearly anytime you walk Link toward an edge of something. Hit A and you'll start climbing down. And while you might use this a little bit in the early moments of the game, once you get a hold of the paraglider, you're far more likely to just jump off cliffs and glide to safety.
While some fans in the thread have pointed out that "climb down" is quite useful for finding certain Koroks on various Sky Islands, it's still a very seldom-used feature.
The map shortcut from holding down L and selecting "Map" is another feature fans highlighted as being particularly useless—especially why you can just press the - button to very quickly access the map. As others have said , it seems like a missed opportunity to assign the button to other features like using sage powers, which requires you to walk up to an active sage (turning them on necessitates a quick menu dive—another commonly cited annoyance of the game's layout) and press A to use their ability (the exception being Tulin whose ability is accessible while paragliding).
On the topic of useless, inelegant, even confusing, features of the game: Fans have also pointed out the absurdity of armor that shields you from cold damage caused by incoming enemy attacks that doesn't actually protect you from cold environments. Another player points out the snow boots, which will let you run faster on the snow…yet also fail to provide any direct cold protection.
Then there's Shining Steps, a feature of the Miner's Armor set which highlights Link's footsteps. We shouted this armor set out in our list of 11 essential sets of armor in Tears of the Kingdom, but some aren't finding it as useful. As players are pointing out, the armor not only fails to give you any bonuses to the actual act of mining, but brightblooms, which are quite abundant, are more than suitable for the task of lighting up areas and creating a trail for you to find your way back below the surface.
But for every feature that feels a little useless, incoherent, or even half-baked, there are some players who do find use here and there. So maybe it's not all totally useless and it's all up to personal experience and playstyle.
What features have you found lacking, confusing, or just completely useless in Tears of the Kingdom?