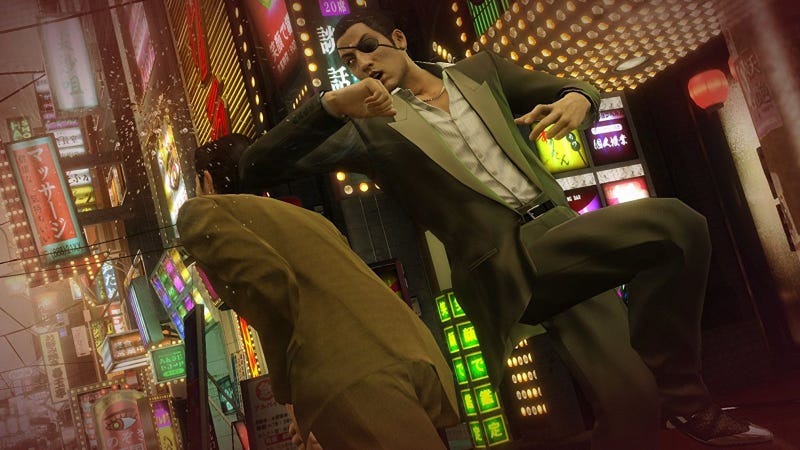 Now that the West is getting new Yakuza games every six months, there's never been a better to check out the series. But with over seven games and numerous spin offs, it can be hard to know where to start. Well, today's your lucky day! Let me help you take your first step into one of gaming's best series.
Last year, Yakuza 0 brought gaming's best crime thriller and cabaret management series to a new group of fans. Yakuza 6: The Song of Life wants to be accessible to veterans and newbies alike. We took a closer look at the game alongside senior localization producer Sam Mullen to get a sense of what's next for…
The Yakuza series has a few constants: burly men with tattoos, karaoke and cabaret, dramatic fist fights, and the city of Kamurocho. From Yakuza 0's 1980s setting to Yakuza 6's modern day, players have seen the city grow and expand, adding life and character to one of gaming's greatest locations.
Yo, Kiryu-chan! We're starting up a playthrough of Yakuza Kiwami live on Twitch. It's a remake of the PS2 classic and a great way (along with Yakuza 0) to check out the series.
Sephiroth, Liquid Snake, Ganondorf; video games have some wonderful villains. But making bad guy who is both frightening and sympathetic is a challenge. Yakuza nails it, creating what might be gaming's best antagonist. We take a look how they pull it off in this critical video.
During this weekend's Yakuza press conference, actor Susumu Terajima made remarks that might get Yakuza Kiwami 2 cancelled in South Korea.

Yakuza Kiwami's latest gameplay trailer shows off fighting styles and arcades. A remake of the first game in the series, Kiwami has me excited to finally see where all the weirdness started but with, like, updated graphics and stuff. It's coming to PS4 on August 29.
The Yakuza series' merger of story, exploration and bone-breaking combat has made for some of the best games I've ever played, including this year's wonderful Yakuza 0. Last week, at E3, I had hands-on time with Yakuza Kiwami, a remake of the first game, and Yakuza 6: The Song of Life. It was awesome.
Yakuza 6 and original Yakuza remake Yakuza Kiwami—the latest in the Sega-made crime series beloved in Japan and in the Luke Plunkett household—are coming to the West on PS4. Summer for Kiwami. Early 2018 for Yakuza 6 according to Sega.