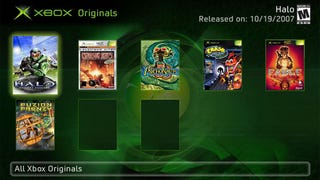 First launched in 2007, Microsoft's "Xbox Originals" scheme seemed an easy way to re-release old Xbox titles on the 360 as a digital download, and make a buck off them in the process. Hasn't worked out that way.
Rockstar injects the Xbox 360 with a double dose of gritty film noir and slow-motion gunfire with the release of the first two Max Payne games as Xbox Originals.
While we're waiting for Lionhead's next batch of downloadable content for Fable II, Microsoft slashes the price of the original next week, with an Alien Hominid HD discount following soon after.
...Zapper. Do try and remain calm, will you? Blitz's cricket platformer, first released in 2002, will be ready for download on your 360 on November 17, for the customary price of 1200 MS Points. Really, Microsoft. Zapper? It's the lead-up to Christmas, and you release Zapper? An average (and that's being kind)…
Microsoft are yet to officially announce it, but a listing has appeared on Xbox.com for the digital re-release of 2004's Grand Theft Auto: San Andreas. We'll take that as announcement enough. It'll be the standard 1200 points, and will go on sale next Monday, October 20. For those left wanting by GTAIV's flat final…
This month sees the largest addition to the Xbox Originals program for the Xbox 360 ever, with a more than 61 games hitting the service on September 15th. Of course all but one of those games is part of Crave's Intellivision Reborn compilation - which incidentally failed to spark a rebirth of the Intellivision - but…
Microsoft have just announced that the next original Xbox game to be granted a second lease of life will be BioWare's Jade Empire. For a BioWare game it's nowhere near as fondly recalled as some of their other, more laser gun-oriented titles, but it's still an excellent game, especially its take on RPG combat. It'll…