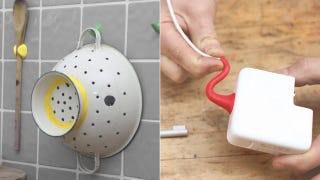 The best Kinja Deals aren't on the products you've been waiting months for a price drop on (unless you're a gamer), they're on products you didn't know you needed, or didn't even know existed.
With so many games coming out on Steam each week and the service's fondness for focusing on "popular" and "recommended" new releases, it's easier for smaller games to fall through the cracks. What's On Steam is a website that gives every new game on Steam equal treatment.
iFixit, the people that rip apart brand new electronics for your amusement to show you how to fix them, makes its own toolkit, and you can get it for $15 today.
Dusty Welch is a gamer. He's the COO of Respawn Entertainment, the independent game development studio behind Titanfall. But he got his start creating another popular franchise that you've likely heard of: Call of Duty.
Tired of the same old, boring laminated pattern that's in all of your 3D printed stuff? Industrial design student Vimal Patel was, and so he decided to fashion himself a 3D doodler, out of a hot glue gun which he modded with a custom Lego extruder. You know, obviously.
The Sims 3 allows you to create your own Sims, create your own home, and now you can create your own world, courtesy of The Sims 3 Create A World tool, a free download now available on TheSims3.com.
One thing about us here at Kotaku, we love a 3D Games Design Tool with a happy Atmosphere. Or an Atmosphir - as in the case of this 3D platform game maker from Minor Studios. It's a closed beta at the moment (you can sign up through their site) but from the video (see below the jump) it looks like a cross between a…