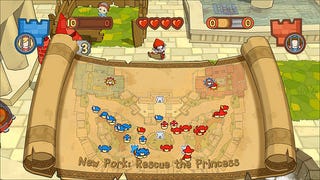 Fat Princess is soon to get a little fuller in the content department, with developers Titan Studio announcing at PAX earlier today a new map for the game.
While we're waiting on a patch to fix some of the known issues with Fat Princess, the developer is placating us with cake strategies for success.
Fat Princess is great fun, but also - at least at the moment - a pain to play over the PSN, courtesy of some choppy online performance.
If there was ever anything you wanted to know about Fat Princess — aside from her exact dress size — now's the time to ask.
Hateful toward the portly and excessively violent though it may be, PlayStation Network exclusive real-time strategy game Fat Princess is also endearingly cute. Just look at the delicious screen shots and equally tasty map names!