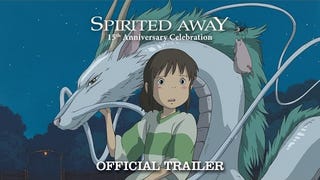 Over 400 U.S. theaters will screen Spirited Away to celebrate the film's 15th anniversary from December 4th to 5th. After the screenings, the short comedy Ghiblies: Episode 2 will air.
Today is the 15th birthday of acclaimed Studio Ghibli film Spirited Away. As a token of gratitude to the Japanese movie that opened up so many virgin minds to the wonderful and sometimes bad world of anime, Minecraft user Alan Becker has reconstructed the entire world of Spirited Away (and a little of My Neighbor…
In the Studio Ghibli anime My Neighbor Totoro*, there is a scene in which the family moves into their new house and finds the attic crawling with soot sprites. This is kind of like that, but WITH SPIDERS.
You won't see anime locations being remade in Minecraft often, especially not the vivid, colorful ones from Hayao Miyazaki's works. Maybe because it's not an easy task to remake something that's perfect. Yet here's Alan Becker with his Spirited Away project, ready to show us that it can be done.