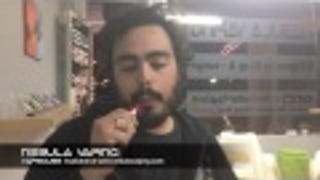 We've been covering the GameCube-meets-e-Hookah 'Vape Cube' for a while now, but in case you're wondering what it actually looks like to use one of these puppies, welp. Here ya go.
Some people use GameCubes to, y'know, play games. In fact, most of us probably do. But you can also use GameCubes to smoke/vape, if you wanted to.
When attempting kick the cigarette habit, tasks and activities once associated with smoking make the cravings flare. In today's Speak Up on Kotaku, commenter Peter Pan Complex struggles with video games as a catalyst for puffing his life away.
As a connoisseur of the MMO genre, I've often noticed that your average Chinese and Korean massively multiplayer online games tend to rely heavily on the mouse, often foregoing keyboard movement altogether in favor of the dreaded click-to-move system that I completely despise. So why do Asian MMO games lean so hard…
Honestly this anti-smoking message from the folks at Tobacco Free Florida could be channeling any future FPS, but I like to imagine it is Master Chief sneaking a smoke, and that it's opening his helmet in an alien atmosphere that kills him rather than the cigarette itself. Habit gets so ingrained that you often do it…
During the 9-minute or so loading screen of Metal Gear Solid IV, gamers are treated to a close up view of old Snake sucking through cigarette after cigarette as game tips, warnings and public service announcements pop-up on the screen. They're certainly not worth sticking around to watch, but if you do you'll get two…