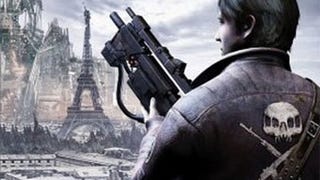 In Resistance: Retribution, gamers return to the world of the Chimera invasion, guiding a disgraced Royal Marine as he fights to save Europe's last bastion for humanity.
Global Gaming and SCEA have teamed up to host a Resistance: Retribution tournament slated to give away $25,000 in Sony gear.
This poster arrived in the mail today along with a copy of Resistance: Retribution for the Playstation Portable. The pictures show the popular images of the Eiffel Tower being erected followed by a picture of its future collapse. Kinda cool how it sorta surprises you if you're not expecting it.
The fight between humanity and the Chimera spills over onto the PlayStation Portable next week with the release of Resistance: Retribution.
This video walks you through some of the features which are broken down into two different modes:
Two years ago tomorrow the PlayStation 3 had its North America launch. Remember November 2006? Ah, yes, the days of $3,000 machines being sold on eBay and beyond-the-pale mayhem in the midnight line-ups to get one. Sony Computer Entertainment America had a far more sedate affair on Wednesday, toasting the two year…
Resistance: Retribution pleasantly surprised me at Tokyo Game Show when I finally had a chance to go hands on with the game. It may look like a shooter at first glance, but really Retribution plays more like a third-person action title, which is a good idea. The problem with creating a straight-up shooter for the…
Let's talk a little bit about Resistance's smaller, but not so small brother. It's got a new 3rd person view which is a departure from what we've played on PlayStation 3. It's got 8 player online matches which can be pretty fun to play on a handheld. And for it being a PSP game, it gosh darn beautiful. Is this going…
PlayStation Portable owners, you're about to get a bit more value our of your copy of Resistance: Retribution. If you also own a copy of Resistance 2 for the PlayStation 3 — and if you're actually going to grab Retribution, there's a good chance you'll have one — connecting your PSP to the PS3 will "infect" your copy…
Sony is adding rumble support to the PSP, in a roundabout way, courtesy of the DualShock 3. Using the new "PSP Plus" feature in games like Resistance: Retribution, owners of both the PSP and PlayStation 3 will be able to forego the portable platform's analog nub for a better control experience. By plugging in your…