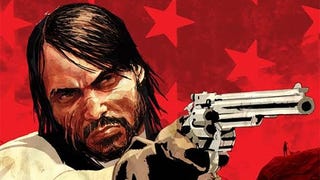 Red Dead Redemption and its Undead Nightmare expansion arrive on PlayStation Now on December 6. Subscribers to Sony's streaming game service can get their Marston on via PS4 or PC. I could have headlined this "Play Red Dead Redemption on PC Next Week," but I'm not a monster.
Rockstar's been teasing the crap out of a big reveal for the past couple days. Their tease medium of choice? Images of stars and cowboys. Obviously, they're either about to announce a new Red Dead game, or a gripping open-world narrative experience about sports teams from Dallas, Texas.

Okay, so we don't know for sure that Rockstar is working on a new Red Dead game but… come on! It's going to happen eventually.

Rockstar today released four new screens for their upcoming western title Red Dead Redemption. One of the has an exploding stagecoach. You sure know the way to a man's heart, Rockstar.
I loved Red Dead Revolver, but the game had its flaws. Also had its quirks. The game's sequel, turns out, will be keeping the quirks, while trying to shoot the flaws in the face.