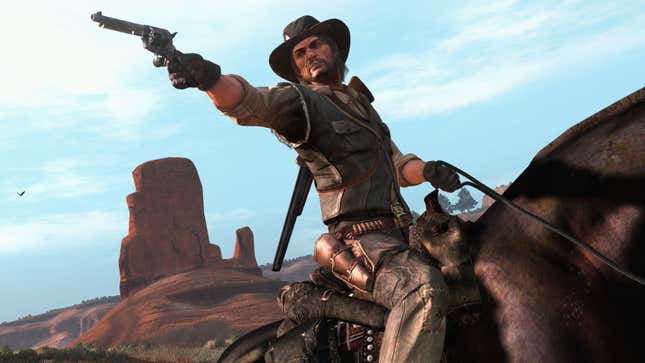 Red Dead Redemption, one of Rockstar's best games, has always been one of its hardest to play, especially if you don't own an Xbox console or a PlayStation 3. So it's great to see RDR making the long-awaited leap from old consoles to Switch and PS4 via newly released ports. I've now had time to play the Switch version, and while it holds up well, even when played in portable mode, the lack of new features, improved visuals, and some performance hiccups makes its $50 price tag hard to ignore.
Thank You, PS Plus, For Making My Backlog Even Bigger
Launched in 2010, Rockstar's Red Dead Redemption was a fantastic open-world action game starring John Marston, a gunslinger who's tasked to take down former gang members to try and secure his peaceful, family life. RDR would go on to win numerous Game of the Year awards across PS3 and Xbox 360. Then, in October 2010, the single-player paid expansion Undead Nightmare came out. This wonderful bit of DLC added a new mini-campaign featuring zombies and other spooky creatures. In the years since, Rockstar put out a bigger, better prequel in the form of Red Dead Redemption 2, but conspicuously declined to release updated versions of the first. Now the original RDR and its zombie DLC are finally available on more platforms. It's still a shame we didn't get a PC port, but at least now Switch and PS4 owners can easily play RDR. (Thanks to Xbox 360 backward compatibility the Xbox One and Series X/S have long had access to a solid version of the game.)

Red Dead Redemption is a solid Switch port
Let's get to the good news: Red Dead Redemption on the Nintendo Switch runs very well. I wasn't concerned about PS4, as that console is more than capable of handling RDR. However, I was nervous that the aging Switch, compounded by a potentially sloppy porting job, wouldn't be able to handle Rockstar's massive open world. Thankfully, that's not the case. Playing RDR on Switch, in portable or docked mode, is a fine experience, with no annoying visual artifacts or frequent performance problems. When I switched to docked mode and used the Switch's Pro controller, I quickly forgot I was playing the 13-year-old open-world western on Nintendo's console.
But it's not perfect, and here's where we get to the sticky issue of this port. Yes, RDR runs very well most of the time on Switch. Galloping around the desert around Armadillo is fine. But when too many enemies show up, TNT is used, or you visit a very busy area, the framerate can start to dip a bit. To be clear, this was the case back on the Xbox 360 and PS3, too. In fact, the Switch seems a tad more stable than those older versions when comparing footage. So that's nice.

Yet, this is also a 13-year-old conversion of a video game that is missing all of its online features and multiplayer modes. Plus, there are still signs that this is an Xbox 360-era game. None of the textures are better, models still look dated, animations remain jerky at a distance, etc. RDR still holds up, thanks to its fantastic art design and atmosphere—riding through a snow-covered forest with the game's music quietly fading into the background will never age poorly—but make no mistake: This is still mostly the same old game.

And selling that old game for $50, with no 60fps option or visual enhancements, feels silly. Sure, it comes with Undead Nightmare—which is great and still a spooky joy to play in 2023—but the math probably won't make sense for most folks.
However, rest assured that unlike the rickety and ugly GTA Trilogy remasters, this re-release is the same Red Dead Redemption you know and love, for better and for worse. Now you just have the chance to play it on the toilet.
.