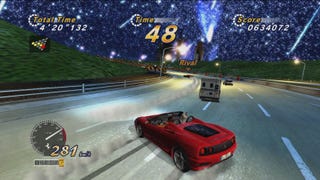 Get your motor running, head out on the highway, and possibly find a little adventure along with way in this week's Xbox Live Arcade release, OutRun Online Arcade.
Sega's OutRun series races onto Xbox Live Arcade next week, and if you blink your eyes really fast, gameplay might look exactly like this latest set of screenshots.
Outrun Online Arcade has us excited. But if you're American and own a PS3, you may want to ease back on the throttle of your own white-hot excitement jets. For safety reasons.
According to a new rating from Australia's Office of Film & Literature Classification board, there may be a new OutRun game in the works. The OFLC has rated a game titled OutRun Online Arcade for a multi-platform release, one published by Sega and, oddly enough, "produced" and "authored" by THQ. The two companies had…