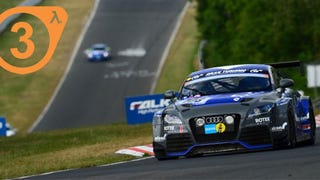 The reader blog over at Jalopnik got a pretty sweet deal last month: for just a few bucks they could get their names on a car that was competing in the famous 24 Hours Nürburgring endurance race in Germany. Thing is, not everyone who contributed went with their real name.
Minecraft has a dedicated, almost cult-like following in the video game world. Some players spend months building incredibly precise replicas of structures like the Millenium Falcon, Fallingwater, the Taj Mahal, and more. Now, one racing fan has built an exact replica of the Circuit de la Sarthe. And it is stunning.
It wouldn't be Formula 1 without some kind of constant friction between racers, team owners and organizers, and this year's kerfuffle involves steering wheels that force drivers to push more buttons than a 747 pilot having a seizure.
iRacing is an extremely realistic racing simulator. Its top driver won $10,000, despite never driving over 100 mph in real life. Top Gear put him in an open-wheel racer to see if digital skills translate to real racing prowess.