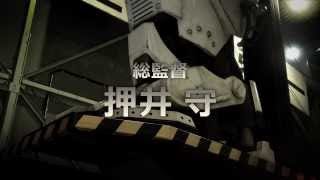 In Japan, they're making a live-action Patlabor. And so far, it looks great.
Getting the first official look at the "Patrol Labor" — the giant, robotic suit the Japanese police force use to combat giant robot crime — is pretty cool by itself. But what's really cool? Discovering that Ghost in the Shell's Mamoru Oshii will be directing the live-action movie based on the classic anime!
According to the official site, it looks like famed anime director Mamoru Oshii (Ghost in the Shell, Patlabor, etc.) is involved with the live-action Patlabor movie. That's good news! The movie is due out in 2014.
The competitive world of digital comics is about to get a lot bloodier. On January 23, at the Foreign Correspondent's Club of Japan press conference, the usually somber Mamoru Oshii spoke about his latest creation, Chimamire Mai Love (My Soaked In Blood Love or Blood-Stained Mai Love), which is a black comedy about a…
Mamoru Oshii is perhaps best known for highly influential anime, like Patlabor and Ghost in the Shell (above). He's directed several live action films before, including the 2001 Polish language flick Avalon, and is now set to direct his first English language film. It's called The Last Druid: Garm Wars, and here's the…
Mamoru Oshii, director of such animated films like Ghost in the Shell was recently revealed as the director of the Steel Battalion: Heavy Armor trailer. In the latest issue of Weekly Famitsu, the director offered his insight to the creation of the trailer and some impressions on the game itself.
Mamoru Oshii, director of landmark anime Ghost in the Shell, has joined the Halo Legends project and will be working on a Halo anime for studio Production I.G.