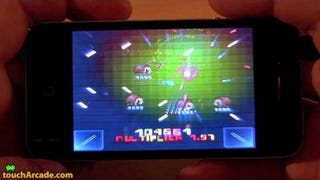 Jeff Minter, he of Mutant Camels and Space Giraffe fame, is back with another iPhone title. This one's called Deflex, and it's a remake of sorts of Superdeflex, which Minter made in 1982. [Touch Arcade]
Hall of fame video game create Jeff Minter doesn't make bland games. They're a festival of old-school graphics and techno music. And he demonstrates his latest, Minotaur Rescue, while wearing a minotaur mask.
Jeff Minter unleashes another psychedelic shooting experience upon the unsuspecting PC gaming public with the release of Gridrunner Revolutions, with the original 1982 Commodore games available as unlockable extras.
Tiga's and Llamasoft visuals go together like peanut butter and acid, the aesthetic that founder and ruminant obsessive Jeff Minter has become (in)famous for over the developer's 25-year-plus history.
Llamasoft's Space Giraffe is, shall we say, one of the more critically divisive Xbox LIVE titles. Its brand of rock-hard psychedelic blasting and crazed art direction splitting gamers into love and hate camps more effectively than Marmite sushi. When the title hits the PC, though, Llamasoft developer Giles (Ivan…
It's been a while since the Space Giraffe kerfluffle where Yak Minter threw a hissy fit in his blog regarding poor scores given to the XBLA psychedelic shooter (and the point where it was compared to Joyce's Ulysses, but I came across an interesting piece recently that talked about Space Giraffe in reference to (wait…