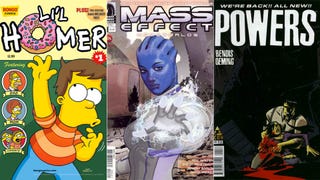 If you're here in the Panel Discussion programming block, you might be a lapsed comics reader, trying to find a way back to the JLA Satellite. Or you might someone killing time until you pick up your weekly Wednesday pull list. Or maybe you've said goodbye to dozens of longboxes to embrace the promise of digital…
Holy crap. French electronica duo Justice has never been shy about making wicked-cool music videos. That said, this new one for their song 'New Lands' is on a whole other level. This video is the business, plain and simple.
Justice of the Supreme Court Antonin Scalia defends the Supreme Court's decision to keep violent video games in the hands of California gamers based on the First Amendment.
The Entertainment Software Association issued a press release today that for once wasn't scolding a U.S. state for pursuing unconstitutional game legislation. Instead, they take a moment to applaud the sentencing of two convicted software pirates - Kevin Fuchs of New York and Kifah Maswadi of Florida, both of whom…